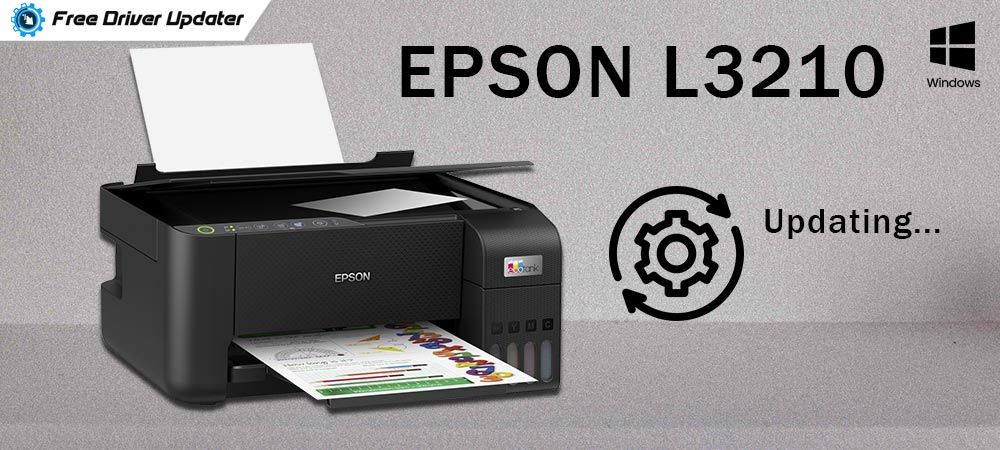 Read this installation guide to learn different ways to download and update the Epson L3210 driver on Windows 11, 10, 8, 7 PC.
Epson's EcoTank L3210 is specially designed to enhance print productivity and business cost savings. Epson L3210 supports a WiFi connection to work with the PC or any other system. This multifunction printer can scan, copy, and print documents without any hassles. However, in order to maintain the smooth working and efficiency of the printer, you should keep its associated drivers always up-to-date.
Therefore, to help you with the driver installation process, we have prepared this guide featuring 3 methods that come in handy to download Epson L3210 drivers.
Easy & Quick Methods to Download, Install, and Update Epson L3210 Driver for Windows 11, 10, 8, 7 PC
By using any of the below mentioned methods you can hassle-free perform the Epson L3210 printer driver free download on Windows 11, 10, or older versions. Check out the methods below:
Method 1: Manually Install Epson L3210 Driver from Manufacturer's Website
Are you tech-savvy? Do you have enough experience in the tech niche along with a lot of time? If yes, then you can manually find and download the Epson L3210 driver from the official website of the manufacturer i.e., Epson. Here is how to do that:
Step 1: Click here to open the official support page of Epson.
Step 2: Enter the product name i.e., Epson ET-L3210, and click on the Search button.
Step 3: Check if the detected version of the Windows operating system is correct. If it is not, then choose the correct one from the drop-down menu.
Step 4: Now, click on the Download button.
Step 5: Lastly, right-click on the downloaded file and follow the on-screen instructions to complete the installation of the Epson L3210 printer driver.
Since manual driver downloads require time, patience, or special technical skills, novices may find it a bit difficult to use this method. Nothing to worry about, you can try the next approaches shared below.
Also Read: Epson M200 Printer And Scanner Driver Download and Update
---
Method 2: Update Epson L3210 Scanner Driver in Device Manager
Windows comes with a default driver support called Device Manager. That means you can install the latest version of driver updates using the Windows in-built utility tool, Device Manager. To use this, you need to follow the steps below:
Step 1: Open the Run Dialog box by altogether pressing Windows + R and type devmgmt.msc inside the Run box. Thereafter, either click on the OK button or hit the Enter key from your keyboard.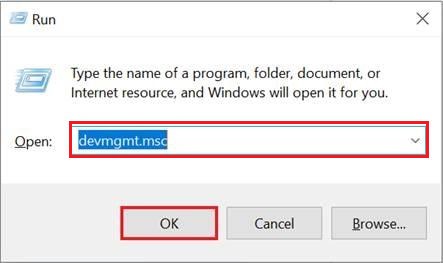 Step 2: Now, Device Manager will be prompted to your computer screen. Here you need to find and double click the Printer or Print Queues category.
Step 3: Next, right-click on the Epson L3210 driver and choose Update Driver Software.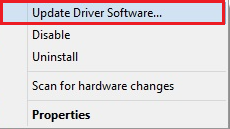 Step 4: The next window will show you two options, you need to choose the one that says Search Automatically for Updated Driver Software.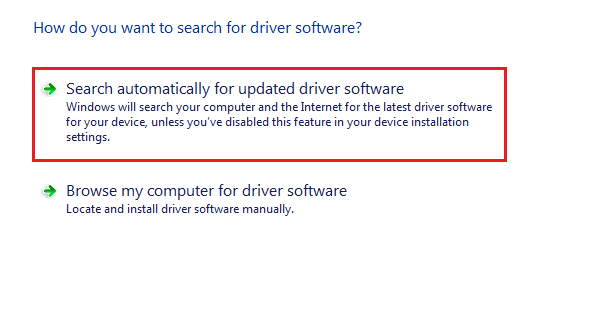 That's all! Now all you have to do is just sit back and let the Device Manager update the required driver for the Epson L3210 printer.
Also Read: Epson WF-7720 Printer Driver Download, Install, and Update for Windows PC
---
Method 3: Use Bit Driver Updater to Automatically Download Epson L3210 Driver (Recommended)
Whether you are a newbie or a non-tech user, you can easily adapt this method. Bit Driver Updater is one of the most popular software for providing certified drivers. Millions of users across the world have shown their trust in this magnificent driver updater and it is still getting an overwhelming response.
Bit Driver Updater automatically detects your PC and later finds the most compatible drivers for it. The driver updater tool also boosts the PC performance by clearing the system junk across the corners. The best thing about this software is that it comes with an auto backup & restore wizard that automatically creates the backup of older drivers before deleting them to restore the old drivers if needed. Here is how to use Bit Driver Updater:
Step 1: Download and install Bit Driver Updater for Free from the button given below.

Step 2: Then, launch the driver updater utility on your system and click Scan from the left pane.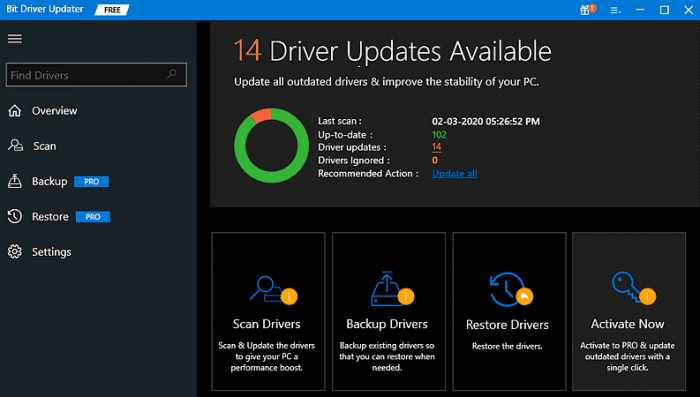 Step 3: Next, wait until the software scans your PC for outdated or faulty drivers.
Step 4: After that, find the Epson L3210 driver that is having issues and click on the Update Now button shown next to it. However, you can update all outdated PC drivers in one click by making a click on Update All instead.
But, when you click on the Update All button, you will be asked to upgrade to the pro version of Bit Driver Updater. Along with a one-click driver update, Bit Driver Updater's pro version also offers 24*7 technical support or a 60-days complete money-back guarantee.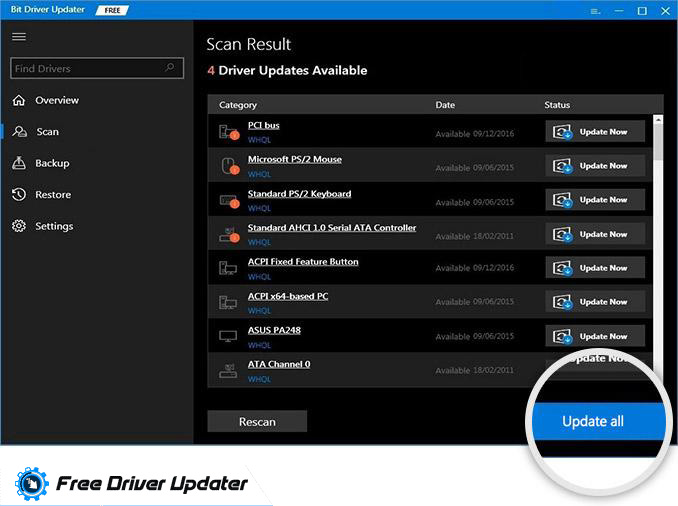 Also Read: Epson WF-3640 Printer Driver Download, Install and Update
---
Epson L3210 Scanner & Printer Driver Download and Update: DONE
We hope the aforementioned information helps you find, download and install the relevant Epson L3210 driver for Windows PC. In our opinion, you should give Bit Driver a shot. This is the more straightforward and quickest way to deal with all driver-related problems or errors along with updating.
Do tell us in the comments below if you have any doubts or further suggestions regarding the Epson L3210 driver installation. In addition to this, do subscribe to our Newsletter and follow us on Facebook, Twitter, Instagram & Pinterest for more tech-related articles, news, or updates.