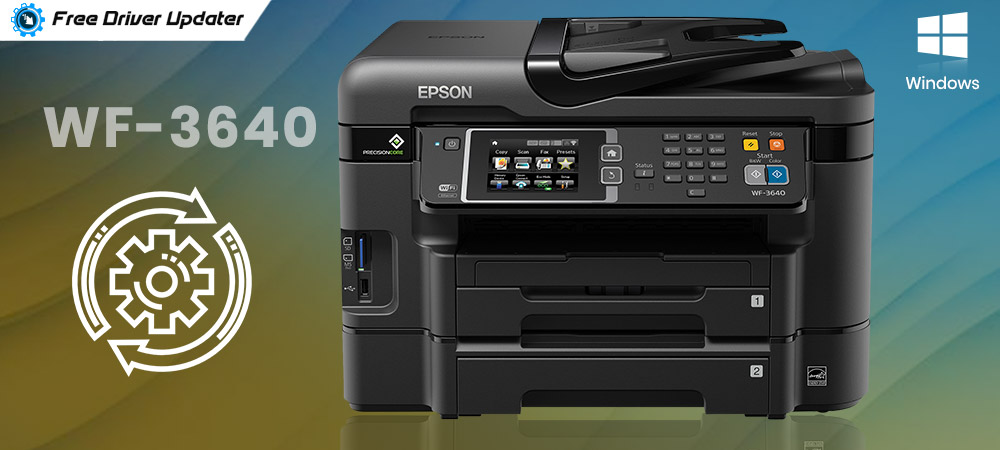 This installation guide on how to download Epson WF-3640 printer driver will show you the handiest methods to perform driver update with ease.
Epson WorkForce WF-3640 printer is a multifunction printer that can copy, scan, print, and FAX documents. It is based on the latest printing technology that ensures exceptional printing quality and the fastest print speed. It is a fully colored printer suitable for both home and commercial use. However, you will need to have an accurate driver file to make sure it functions smoothly.
Now, if you are wondering how to install the latest driver file, then don't worry. We have created this document to guide you on how to download Epson WorkForce WF-3640 driver. So, without further ado, let's get started!
Methods to Download, Install and Update Epson WF-3640 Printer Driver for Windows PC
Below are the easiest and most convenient approaches to download and update Epson WF-3640 drivers on Windows 7, 8, 10.
Method 1: Manually Download Epson WorkForce WF-3640 Driver from Official Support
If you have expertise in the technical niche then you can find and install the latest drivers manually. However, this method could be tedious for those who don't have enough time and patience. Because this method takes quite a long. Despite this, if you want to try this method then you can visit the official support of Epson. Here are the steps you need to follow in order to download and install Epson WorkForce WF-3640 driver and software downloads:
Step 1: Go to Epson's official website.
Step 2: Head to the Support tab and choose Printers from the drop-down menu list.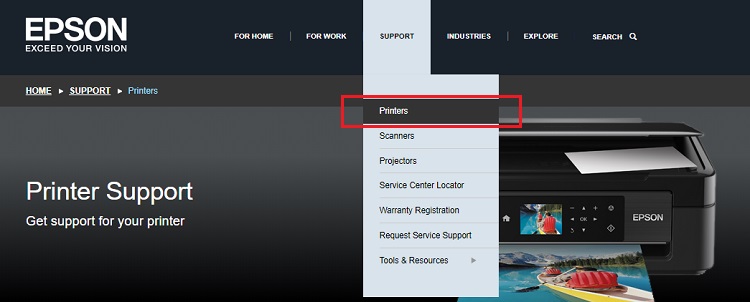 Step 3: Now, in the search box type Epson WorkForce WF-3640 and make a click on the Search button manifested next to it.

Step 4: Click on the most appropriate searched results.

Step 5: After this, choose the correct Windows operating system and lastly click on the Download button.

Step 6: Run the downloaded file and follow the wizard for installing the driver file.
Once drivers are installed, reboot your system to save the new changes.
Also Read: Printer Driver is Unavailable on Windows 10 – Solved
---
Method 2: Use Device Manager to Update Epson WF-3640 Driver
Windows is developed with in-built support to manage the drivers named Device Manager. This program can update, uninstall, roll back and disable the drivers. So, the user can use this Windows in-built utility to perform Epson WorkForce WF-3640 Driver and software downloads. Follow the steps shared below to do so:
Step 1: Firstly, you need to trigger the Device Manager on your PC by pressing the Windows Logo and X keyboard buttons simultaneously.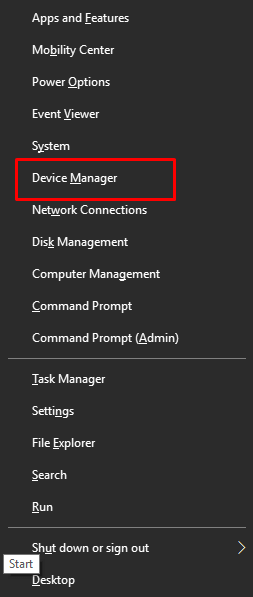 Step 2: Now, in Device Manager, you need to expand the Printer & Print Queues category.
Step 3: Later, right-click on the Epson Workforce WF-3640 driver and choose Update Driver from the context menu list that pops up.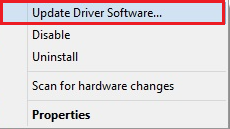 Step 4: The next screen will show you two options: you need to choose the first one saying Search Automatically For Updated Driver Software.
Note: You can also choose the second option saying Browse My Computer for Driver Software, but only when you already have the downloaded file on your PC.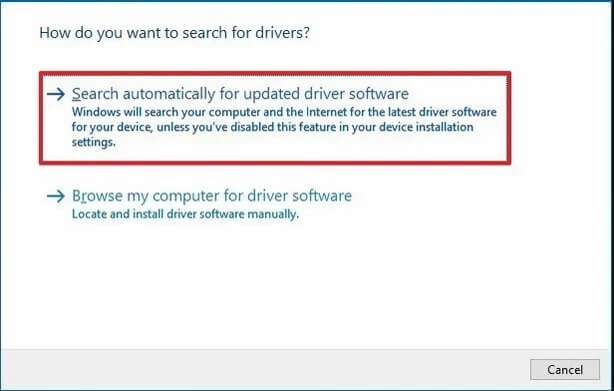 Wait until the program searches and installs the latest drivers. However, sometimes, this program fails to download the most suitable driver. So, it is advisable to move on to the next method.
Also Read: [Fixed] Your Printer Has Experienced an Unexpected Configuration Problem
---
Method 3: Automatically Get Latest Epson WF-3640 Driver through Bit Driver Updater (Recommended)
This is the most workable method to ensure accurate and up-to-date drivers. Manually it could be tiresome to get the latest drivers installed. So, to make this task much easier you can use driver updater programs like Bit Driver Updater. It is the best driver updater that can update all outdated drivers with one click of the mouse.
Furthermore, the driver updater tool works as a system optimizer too and boosts up the overall performance of the PC by up to 50%. The tool comes with an in-built backup & restore tool that helps you to back up the older driver file before performing a driver update. So that you can restore the file whenever needed.
In addition to this, you get a scan scheduler too in this driver updater utility. This allows you to schedule the scans as per your preference and later then, the tool starts scanning on the pre-set time. This is something every PC user desires. Isn't it?
Bit Driver Updater makes the driver update a cakewalk. Comply with the steps listed down to download drivers for printer Epson WorkForce WF-3640 on Windows 10, 8, 7.
Step 1: Hit the download button given below to get Bit Driver Updater downloaded on your PC for Free.

Step 2: Run and install the driver updater software on your PC.
Step 3: Open the Bit Driver Updater on your system and wait until Bit Driver Updater performs a deep scan on your PC for outdated, broken, or faulty drivers.
Important: If in case, you want to search for the outdated drivers manually. Then, to run the manual scan you need to click on the Scan button from the left side.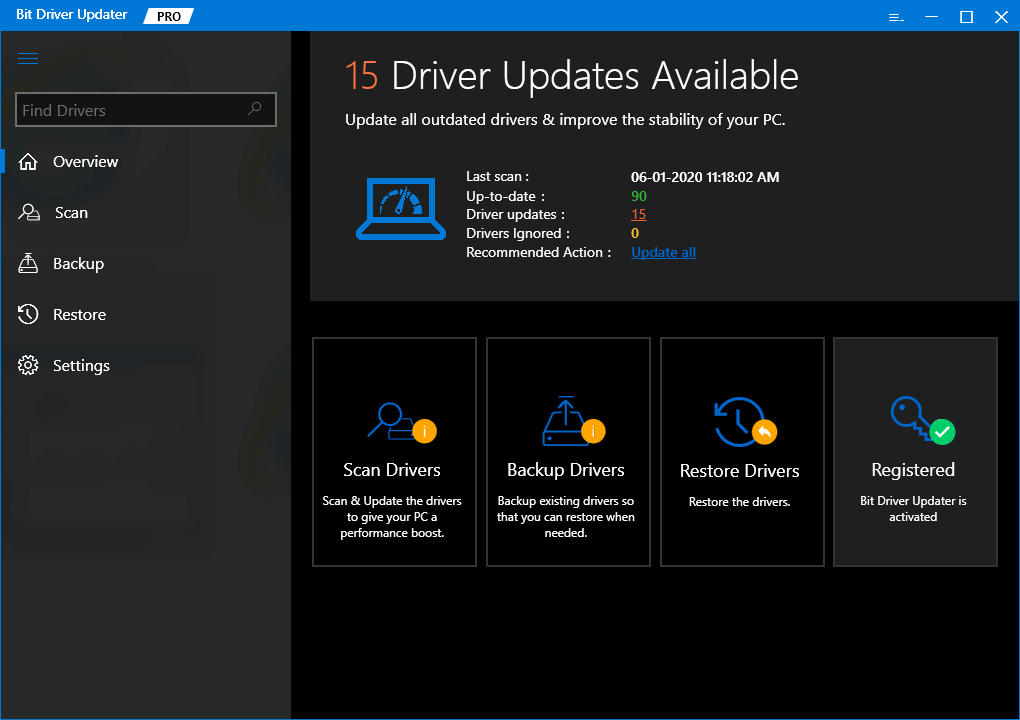 Step 4: Once the scanning is done, you will see a detailed list of outdated drivers, wherein you need to find the Epson WF-3640 driver and click on the Update Now button presented next to it.
Step 5: Either, the user can click on the Update All button to perform driver download for all out-of-date drivers.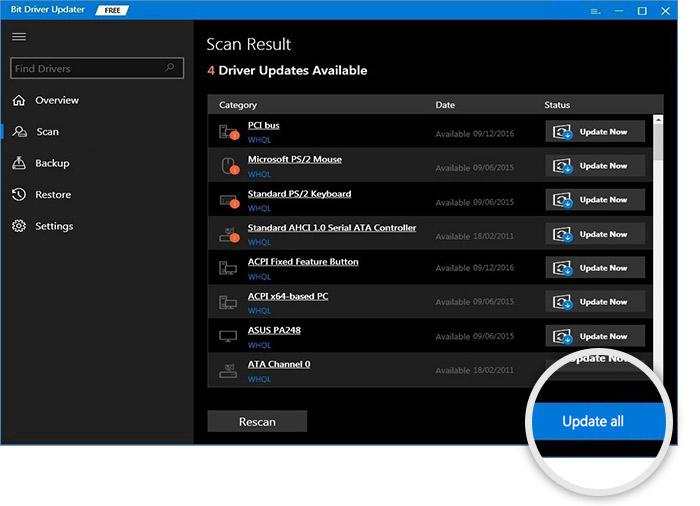 That is it! You have successfully got the latest Epson WorkForce WF-3640 driver installed on your PC.
Also Read: Fix Printer Not Responding Error on Windows 10,8,7 [Perfect Solution]
---
Epson WF-3640 Printer Driver Download for Windows 10, 8, 7- DONE
So, these were the most simple methods to perform the printer driver download. Through this write-up, we have tried our best to educate you on how to download and update Epson WorkForce WF-3640 driver on Windows 10, 8, 7. Although, you need not try all the methods from the above list, just work your way down until you find the best one.
Hopefully, you have liked this informative guide. If you have any queries and further suggestions then share them below in the comment box.
Lastly, do subscribe to our Newsletter for reading more installation guides just like this one. Also, get a quicker response from us on Instagram, Facebook, Twitter, and Pinterest.