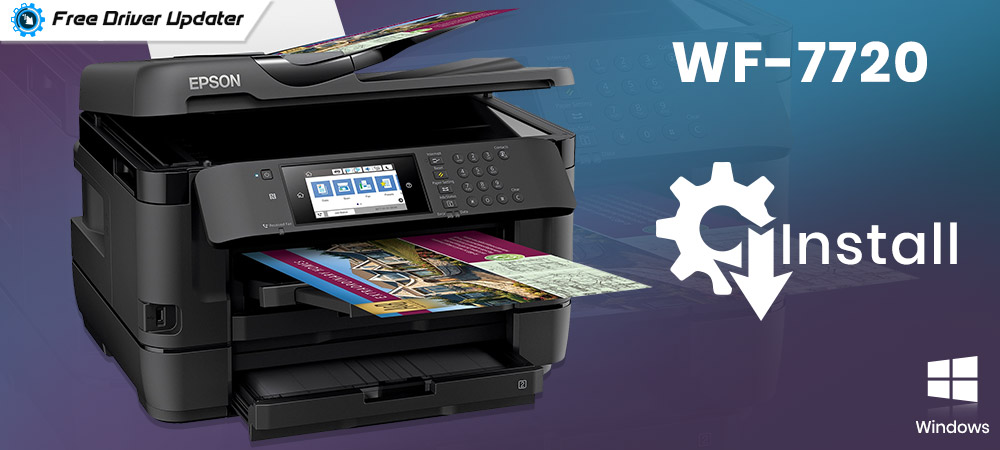 Trying to download and install Epson WF-7720 printer driver? Then, this write-up can help. Here, in this guide, you will find some easy tactics to perform the driver update. So, read further to know the ideal method.
Epson WorkForce WF-7720 printer is an all-in-one printer based on inkjet technology and is popular to deliver wide format prints, fast speed, and high-quality printing outputs. This all-in-one inkjet printer supports duplex printing and ADF (Auto Document Feeder) functionalities. Since the printer possesses WiFi connectivity, therefore, users can easily access all its features like print, scan, copy, and fax documents. Even users can access all these features through their smartphones.
However, to ensures its proper functioning you have to install the correct and most up-to-date driver file. There are mainly two approaches to installing the latest drivers on your PC, either manually or automatically. Well, we have explained both approaches in our next section. So, without a further hustle, let's dive into the next section of this installation guide.
Smart Methods to Download, Install and Update Epson WF-7720 Printer Driver on Windows PC
This section explains the distinct methods to perform Epson WorkForce WF-7720 driver download. However, you do not need to try all of them, just work your way down until you find the best one. Now, let's read them!
Method 1: Manually Download Epson WorkForce WF-7720 Driver from Official Website
If the user possesses expertise in the technical niche and especially about the Windows drivers, they can respective drivers manually. To get the manual driver update performed, one can use the official website of Epson. Here are the steps one need to consider in order to perform Epson WorkForce WF-7720 driver and software downloads:
Step 1: Click here to visit Epson's official website.
Step 2: Then, put your mouse on the Support tab and choose Printers from the drop-down menu list.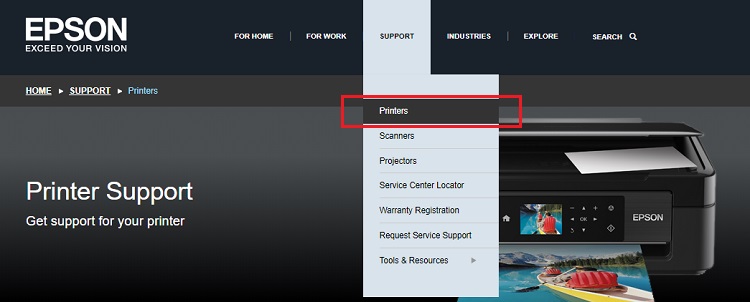 Step 3: Now, you need to type the product name in the search box for which you want to update drivers and then choose the best-searched results.
Step 4: Next, click on the Search button placed next to it.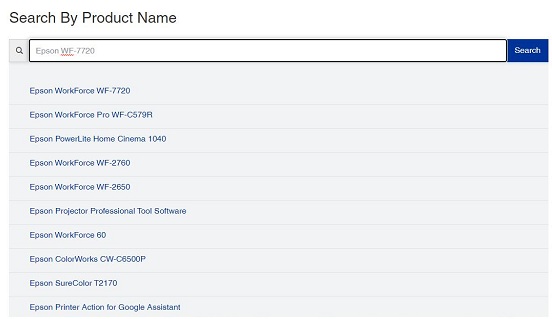 Step 5: After this, detect the correct Windows operating system and then click on the Download button to start downloading.
Step 6: Run the .exe file and go with on-screen instructions to get the latest Epson WF-7720 driver installed on your PC.
Once the above steps are executed, then don't forget to reboot the computer.
Also Read: Printer Driver is Unavailable on Windows 10 – Solved
---
Method 2: Update Epson WorkForce WF-7720 Printer Driver in Device Manager
Using Windows in-built driver support named Device Manager is another manual tactic to perform the driver update. With this program, the user can update, uninstall, disable and roll back the drivers. Below are steps to download drivers for printer Epson WorkForce WF-7720 for Windows 10.
Step 1: Initially, open Device Manager. To do so, hit the Windows logo and X keys at a time.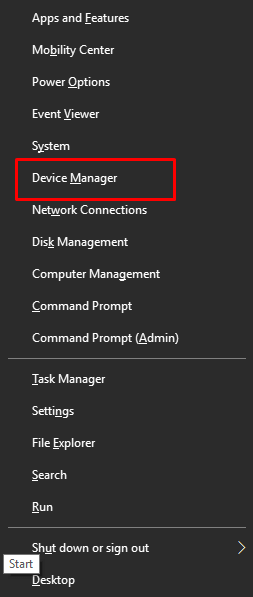 Step 2: When the Device Manager window opens, then you need to locate and expand the Printer or Print Queue category.
Step 3: After this, click right on the Epson WF-7720 driver to Update Driver.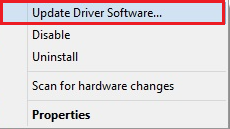 Step 4: The next prompt will present two options, wherein you have to choose the first one that says Search Automatically for Updated Driver Software.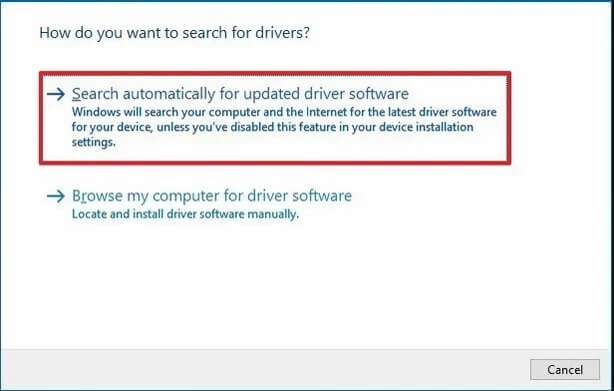 Note: You can also choose another option that says Browse my computer for Driver file, but only when you already have the file downloaded on your PC.
That's it! The above procedure will download and install the latest Epson WorkForce WF-7720 driver on your Windows PC.
Also Read: [Fixed] Your Printer Has Experienced an Unexpected Configuration Problem
---
Method 3: Automatically Get Latest Epson WorkForce WF-7720 Printer Driver via Bit Driver Updater (Expert's Recommendation)
So, this is one of the easiest yet safest ways to install compatible drivers. And, this method doesn't require deep technical knowledge either. Through a reliable driver updater tool, you can install the drivers automatically.
Out of all driver updaters, Bit Driver Updater is currently trending in the marketplace. It is a globally acclaimed driver updater tool that has the potential to fix all faulty or corrupted drivers in one click on the mouse. Below are the steps to update drivers via Bit Driver Updater:
Step 1: Tap on the button provided below to download Bit Driver Updater.

Step 2: After this, run the downloaded file and follow the on-screen instructions to get the software installed on your system.
Step 3: Next, launch the software on your system and wait till it scans your PC for outdated or faulty drivers.
Step 4: Then, check a list of outdated drivers and find the Epson WF-7720 driver.
Step 5: Lastly, click on the Update Now button presented next to the driver.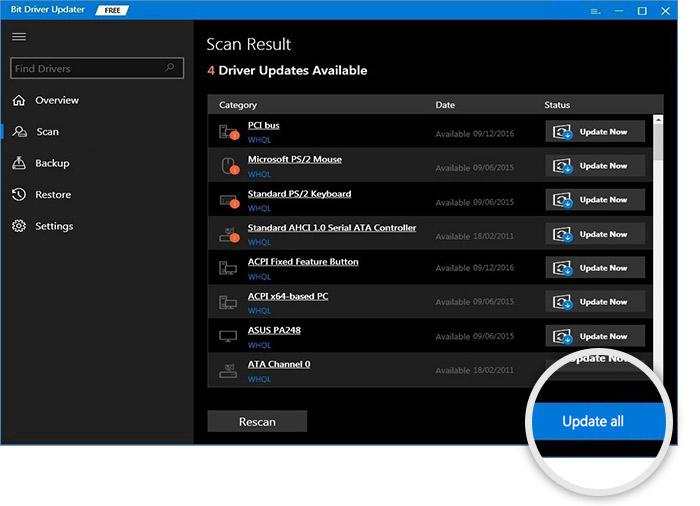 However, the free version can be used to get the latest drivers but with the access of limited or basic features. Hence, it is advisable to rely on the full/premium version of Bit Driver Updater. Also, the user can update all broken drivers in one click by acquiring the premium version of the tool.
The premium version possesses one-click driver update functionality. Not only this, but the premium version also has numerous advanced features like scan scheduling, 24/7 technical aid, backup & restore, and more. And, top of all, Bit Driver Updater gives a 60-days money-back guarantee.
Also Read: Fix Printer Not Responding Error on Windows 10,8,7 [Perfect Solution]
---
Download and Install Epson WF-7720 Driver for Windows PC: DONE
 Thus, keeping the Epson WorkForce WF-7720 driver up-to-date the effective functioning of the respective printer can be ensured. Through this write-up, we have tried to teach you several possible methods to perform the driver update.
If you seek expert advice, then you should choose Bit Driver Updater for updating the drivers. Because it is a completely automatic driver updater that requires no technical expertise and manual effort from user's end.
Hope, this installation guide will really help you. If you have queries or additional suggestions then do tell us in the comments below.
Lastly, do subscribe to our Newsletter for reading more installation guides just like this one. Apart from this, users can also get connected with us through Instagram, Facebook, Twitter, and Pinterest.