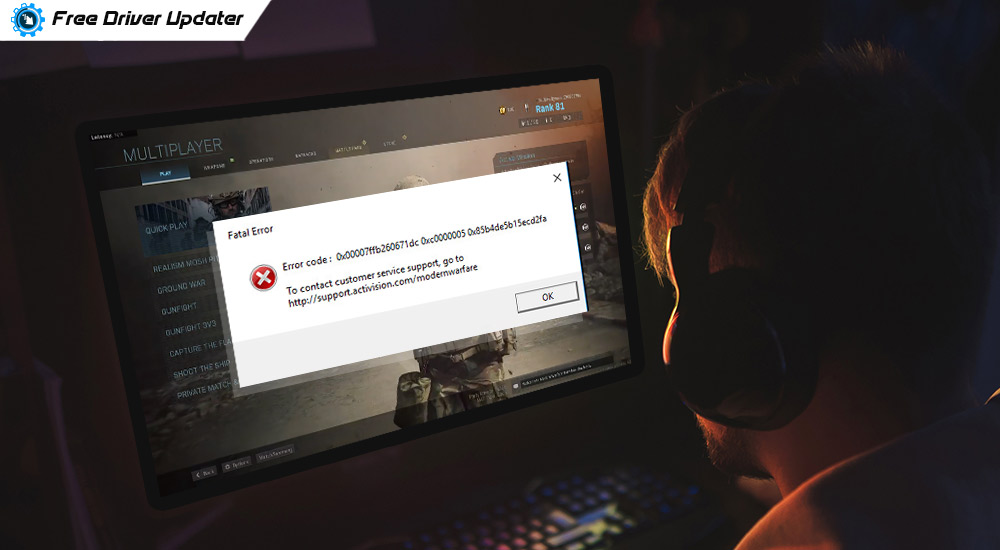 A first-person shooting game, Call of Duty: Modern Warfare is one of the most impressive games. But, at the same time, it is the most annoying game as well, when it randomly crashes down on the PC. Nowadays, most of us face the same issue as crashing down the game frequently. All sorts of Dev error codes, for instance, Dev error – 6178 Fatal Error. Above all that, the issue occurs even in the single-player too.
Moreover, the game receives positive feedback for its gameplay, design, graphics, plots, and multiplayer functionalities. Modern Warfare grossed $600 million inside its three days of release and later on, it became the best selling game up till now.
But, now Call of Duty Modern Warfare crashes randomly and bothers the users to no limit. Hey you, yes you, if you are also bearing the same issue then here we can help you to get rid of the issue. Here are some easiest fixes that you can try! But, before moving forward towards the fixes, we want to explain to you some common causes behind this.
Why Does Call Of Duty – Modern Warfare is Crashing on PC?
Some of the most common causes behind the crashing are listed below-
Low PC requirements.
Old or broken graphics card drivers.
Improper graphic settings.
Unsettled game files.
Accessing too many apps simultaneously.
Low texture quality.
Overlay in-game issues.
Complete Guide on How to Fix Modern Warfare Crashing on PC
This is a complete guide that explains to you how to fix the Modern Warfare crashing issue on PC. Below are the few fixes about the same, read every bit in detail!
Fix 1: Ensure your PC Meets the System Requirements
To fix the COD MW crash on PC, at the initial level, what you need to do is just ensure whether your PC meets the system requirements or not, to run the game smoothly without any sort of hindrance. We've also mentioned the minimum or recommended requirements so you can compare the following to check it.
Minimum Requirements
Operating System:- Windows 10/7 64-bit
CPU:- AMD FX-6300 & Intel Core i3-4340
HDD:- 175GB
RAM:- 8GB
Sound Card:- DirectX
(Needs DirectX 12 compatible system)
Video:- GeForce GTX 1650 or Radeon HD 7950/NVIDIA GeForce GTX 670
Recommended Requirements
Operating System:- Windows 10 64 bit – New SP
CPU:- AMD Ryzen R5 1600X processor/ Intel Core i5-2500K
HDD:- 175GB
RAM:- 12GB
Sound Card:- DirectX
(Needs DirectX 12 Compatible System)
Video:- AMD RX 580 / Radeon R9 390 /NVIDIA GeForce GTX 970
Also Read: How to Reinstall Graphics Drivers in Windows 10 [2020 Guide]
---
Fix 2: Re-set Texture Quality to High or Average
Many high-tech pro gamers find that setting the Texture Resolution to high or normal solves the modern warfare crash issue. Call Of Duty – Modern Warfare may crash on PC when the texture quality is not enough to mark, especially in the event, when you get the Error Code 6178. Hence, setting the texture quality high or average can fix the crashing issue. Here's how to do it!
Open up your Call Of Duty: Modern Warfare, and move to Options, then select Settings, after that Graphics.
Thereafter, beneath the Details & Texture option, find Texture Resolution.

And then, Set texture quality average or high.
That's it, whence you can do so quickly. Now, play the game again to see whether the crashing issue has been solved or not.
Also Read: How to Fix HDMI Ports Not Working in Windows 10?
---
Fix 3: Turn Off the Additional Background Apps
If the above ones proved unable to rectify the Call Of Duty Modern Warfare freeze error, then here is one more solution and that is to shut down all the background running apps. Shutting down all the applications that are running in the background not only solves this issue but this will surely boost the performance pace as well. Now, if you are thinking about how to do it then, no worries, you just need to press the Ctrl + Shift + Esc key simultaneously.
---
Fix 4: Delete Corrupt Game Files
So, this is the hack that you can try always, whenever you are experiencing the game crashing errors. Faulty game files are the biggest cause behind the modern warfare crash. So, make sure to eradicate the corrupt game files and repair the game. Here's how to do it!
On steam, move to the library, then right-click on the Call Of Duty: Modern Warfare and choose Properties.
Now, find the Local Files tab and then click on the Verify Integrity of Game Files.
This hack can solve any Modern Warfare PC issue including crashing one. Try this and play the game smoothly.
Also Read: How to Update Outdated Drivers on Windows 10, 8, 7
---
Fix 5: Upgrade your Graphics Card Driver
Now, it's time to jump to one of the most prominent yet effective methods that definitely fix the Call Of Duty Modern Warfare freeze issue. Not even the COD MW freezing issue, but this method can solve the other games crashing issues as well.
Graphics cards are the heart of games, hence, it is worth noting to make sure that the graphics card driver must be associated with the newest drivers instead of outdated. Contrarily, if the graphics card drivers are not associated with the most recent ones then it causes several issues, one of them is crashing.
Therefore, always keep your graphics card updated. You can do so either manually or automatically. But, we suggest you go with the automatic one as it needs minimal tech knack so you can easily or instantly update the graphics card driver.
However, there are a lot of driver updater tools available but one of the most accurate one is the Bit Driver Updater. It keeps you always on the safe side and updates drivers automatically without any manual lookout. You can get this amazing tool by clicking on the below-given download link.

Here's the steps to update graphics card drivers through Bit Driver Updater.
Launch and open Bit Driver Updater.

Wait until the automatic scan procedure gets completed.
Once the scan gets finished it shows the list of drivers, then reviews them.
And, then click on the Update Now to get the latest driver.
Isn't it so savvy to get the latest drivers through Bit Driver Updater? Probably, yes!
Also Read: How to Fix Memory Management Error in Windows 10 [Fixed]
---
Fix 6: Switch off In-Game Overlay
When you are running high-end games, then it becomes crucial to turn off the in-game overlay features, for instance, Discord. Because these overlay in-game features commonly result in the crashing issues. Hence, the same goes for Modern Warfare, to fix the call of duty modern warfare crashing on PC, turning off the in-game overlay features is the right option. Here's how you can do so-
Kick-off Discord and then click on the Settings.
Search for the Overlay tab which is located on the left pane.

Switch off Enable in-game Overlay.
---
Call of Duty: Modern Warfare Crashing on PC: Fixed
So, above are the hacks to fix the Call of Duty Modern Warfare crashing error. Through this penned note, we've explained to you about how you can get rid of the MW crashing issue. Hence, as of now, you know about how to resolve this, so now you could be able to play the smooth game without any crashing error. Lastly, if there is something we missed, then do tell us by dropping the comment in the below remark area. We'll be glad to hear you out. Till then, stay engaged with us, we'll come back shortly!