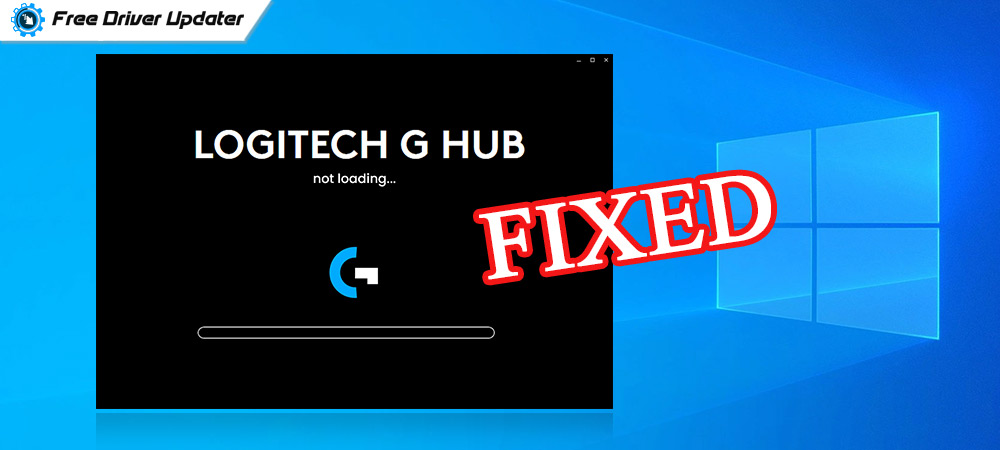 Does your Logitech G HUB not loading on Windows 10, 8, 7? If yes, then we can help. Below, we have discussed numerous tactics to get rid of this inconvenience.
Logitech is a Swiss-based manufacturer of computer peripherals as well as software and is quite famous among all PC users across the globe. Logitech's products are famous for their robust and unique functionalities. But, unfortunately, nowadays, many users are complaining about having issues with their Logitech products and software like G HUB.
Logitech G HUB is software that offers a single portal to customize and optimize all your compatible Logitech G gear like keyboards, speakers, headsets, webcams, and mice. However, many users reported that the Logitech G HUB not loading on their Windows PC. This is really annoying especially when you are an avid gamer. But, not to worry, as the issue can be solved easily and quickly with the simple solutions suggested in this troubleshooting article.
Simple Solutions to Fix Logitech G HUB Not Loading on Windows 10, 8, 7
There are multiple ways to solve Logitech G HUB not loading issues on Windows 10, 8, 7 PC. However, you are not required to give all of them a try, just take a walk through all of them and pick the one that works best for you. Now, without further ado, let's read them below:
Solution 1: Reboot your Computer
Whenever you run into a PC error, then always try to restart your PC. We know it sounds quite easy and too obvious but it can work. Restarting the PC can remove all temporary glitches and helps the PC to run smoother than earlier. But if in case, the issue still persists even after restarting the PC, then don't worry, just seek the help of other solutions mentioned below.
---
Solution 2: Update your Device Drivers
Generally, your PC or connected devices stop functioning when the device drivers goes missing or out of date. Since device drivers play an important role in ensuring all the connected devices or PC functioning well. Hence, it is necessary to keep them up-to-date.
The device drivers can be updated either manually or automatically. To update drivers manually you need to visit the official website of the manufacturer. Along with this, you also need to have a distinct piece of knowledge in the technical niche, as well as, it takes quite a long while so you need to be gentle.
Just in case, if you are running out of time, and also don't have any special kind of technical knowledge then the automatic method can be your savior. There are plenty of driver updater software available that updates all outdated drivers in a few couples of clicks. However, all of them are not safe to use. But, out of all, Bit Driver Updater is one of the safest and easiest ways to get rid of faulty drivers.
It is a globally renowned software specially designed for reducing the complications which users have to face while updating the drivers. The software automates every operation in order to save manual efforts and time. Below are the simple steps through which you can use Bit Driver Updater for updating your device drivers hassle-free.
Step 1: Hit the download button shared below to get the Bit Driver Updater for your PC.

Step 2: Once the setup file is downloaded, then run it and follow the on-screen instructions to get the software executed on your system.
Step 3: After this, on your Desktop, double click on the Bit Driver Updater icon to launch it and wait for a while until it runs scanning on your system for outdated or faulty device drivers.
Step 4: Once done, it prompts a comprehensive list of outdated drivers which need to be updated. You need to check the list and click on the Update Now button which is presented next to the driver you want to update.
Step 5: If you have the pro version of the software then you can click on the Update All button to update all the drivers just with a single click of the mouse.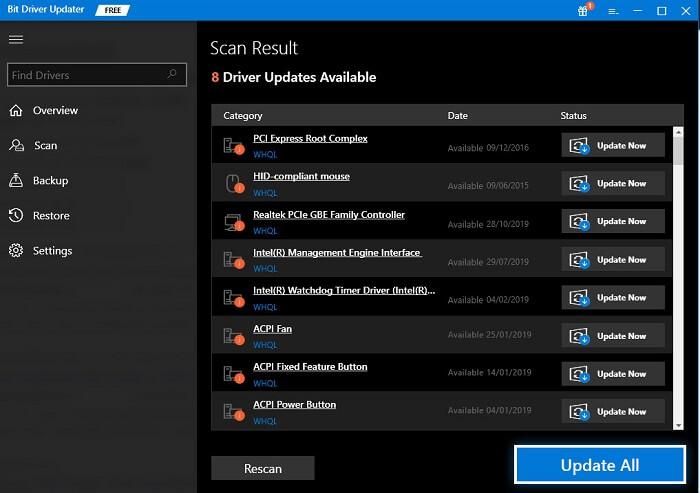 There you have the latest version of device drivers installed on your computer. Now, try to access Logitech G HUB software to see if it works. Unfortunately, if you still encounter the Logitech G HUB not loading issue, then try the next hack.
A Point to Remember: The premium version of Bit Driver Updater offers an abundance of features which include, one-click driver update, system optimizer, backup & restore, time saver, automatic updates, and scan scheduling.
Apart from these, you can also get 24/7 technical support through which you can seek help from the professionals of Bit Driver Updater at any time. And, the most exciting feature of Bit Driver Updater is that it offers a complete money-back guarantee within 60-days of the purchase period.
Also Read: Download and Update Logitech G Pro Drivers for Windows 10, 8, 7
---
Solution 3: Reinstall Device Drivers
Many users stated that even after updating their device drivers, Logitech G HUB not working. If you are also one of them, then don't panic. This can occur when some compatibility issues arise. But, it can be solved just by reinstalling the device drivers. Although for reinstalling the device drivers, you need to first uninstall the existing drivers to avoid complications. To uninstall the drivers, you can use Windows inbuilt utility tool called Device Manager. Here's how to do that:
Step 1: To head over to the Device Manager you need to first open the Run Dialog box by altogether pressing the Windows logo + R keys.
Step 2: Then, type devmgmt.msc inside the run box and press the Enter key from your keyboard.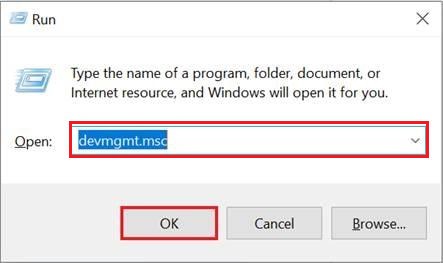 Step 3: Now, the Device Manager window will appear on your screen.
Step 4: Expand the category of the device which you want to uninstall. See, it varies from the device you are using. For example, if you want to uninstall the drivers for your gaming headsets, then expand the category of Sound, video, and game controllers.
Step 5: After this, click right on the Logitech USB Input Device and choose the Uninstall Device option from the context menu list that appears.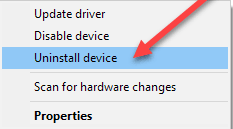 Step 6: Click yes, if a box appears and asks for your confirmation.
Step 7: Once finished, then reboot your system to save changes.
Now, you are ready to reinstall the device drivers from the official website of the manufacturer. Try this, and check to see if Logitech G HUB not working issue still appearing.
Also Read: Logitech Webcam Driver Download, Install and Update for Windows 10
---
Solution 4: Run Windows Updates
Another way to fix numerous PC problems is to install the latest Windows updates. You should check for new updates and the latest security patches in order to ensure that everything is working properly. Here is how to update Windows operating system.
Step 1: First of all, invoke Windows Settings by pressing Windows + I keys at the same time.
Step 2: After this, select the Update & Security option.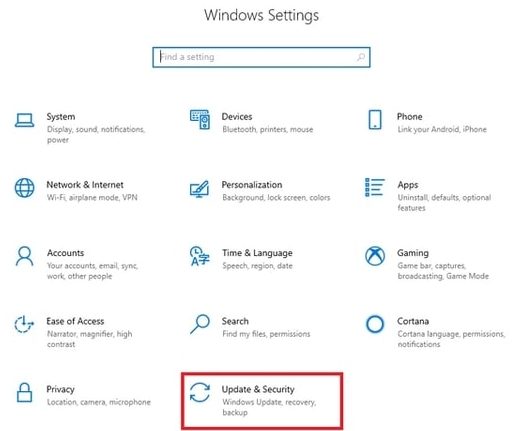 Step 3: Next, from the left pane choose Windows Updates and later click on the Check For Updates.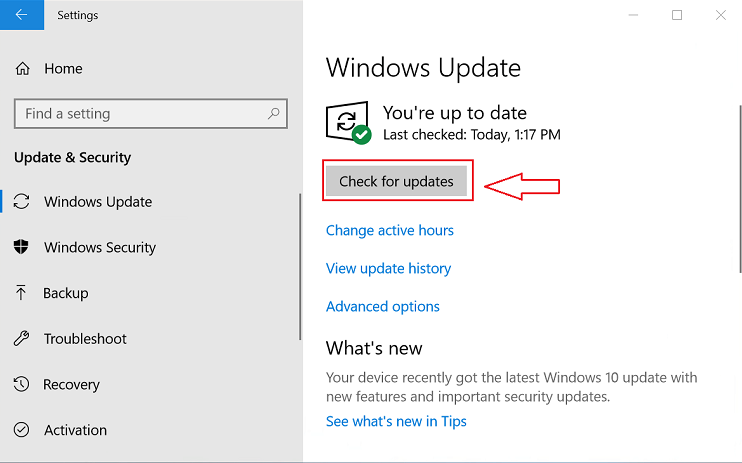 Step 4: Now, install the available updates.
Hopefully, this solution does work many times. If rarely, still Logitech G HUB not loading issue persisting, then move on to the final option.
Also Read: [Fixed] Windows Update Service Not Running on Windows
---
Solution 5: Reinstalling Logitech G HUB
If in case, neither updating the drivers nor running Windows Updates can make Logitech G HUB software work again. Then, only one solution left, which is uninstalling the Logitech G HUB with all its associated files and then installing it all again. This will surely make a difference and fix Logitech G HUB won't install issue. Here is how!
Step 1: Altogether press Windows + R keys to open the Run dialog box.
Step 2: Then, type control appwiz.cpl and hit the Enter key from your keyboard.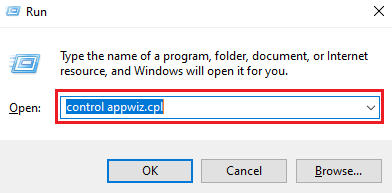 Step 3: Navigate to Logitech G HUB and make a double click on it to Uninstall the software.
Step 4: Once done, reboot your computer.
After this, you need to install the Logitech G HUB software again. To do so, you may need to visit the official website of Logitech G HUB. Thereafter, to initiate downloading, click on the Download for Windows. Once Logitech G HUB is reinstalled, then Logitech G HUB not working issue should be fixed.
Also Read: How to Download and Update Logitech Driving Force GT Driver for Windows 10, 8, 7
---
Logitech G HUB Not Loading on Windows 10, 8, 7: FIXED
Thus, you can effortlessly fix Logitech G HUB not loading on Windows 10, 8, 7 PC. We hope the aforementioned solution will help you in the best possible manner.
If you face any inconvenience while implementing the above solutions then do let us know in the comments box below. Also, drop a comment if you have suggestions or further ideas.
Lastly, do subscribe to our Newsletter for regular tech-related updates. Along with this, you can also follow us on Facebook, Twitter, Instagram, and Pinterest.