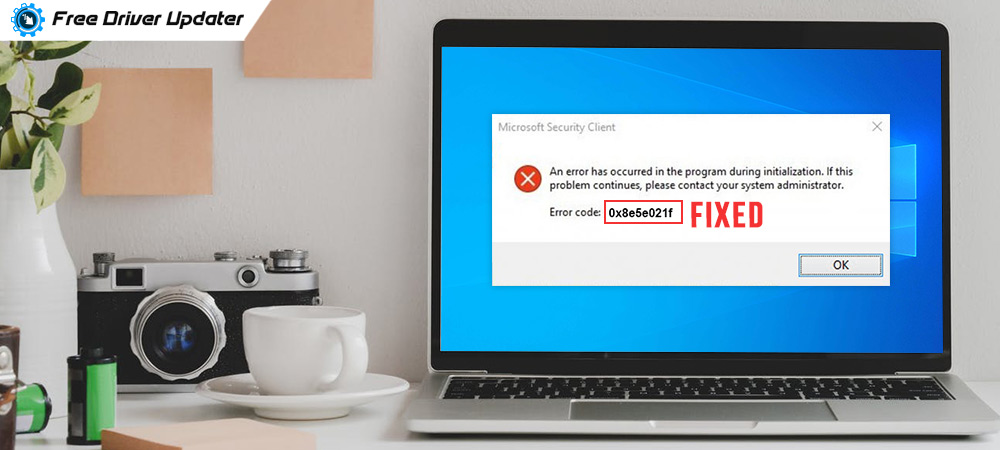 Cybersecurity is crucial for both home and business users and cannot be neglected at any cost. To fight against malicious malware all the Windows devices are powered with an in-built anti-virus utility known as Windows Defender. It provides basic protection from harmful PC threats and even the slightest error in its working can result in a compromised PC. Windows Defender Code 0x8e5e021f being one of the most encountered issues. 
Error code 0x8e5e021f can avoid your Windows Defender from initializing properly, or may prevent it from starting automatically making it vulnerable to virus attack. It even displays an error message when you try to open it manually via the Action Center, stating that "An error has occurred in the program during initialization. If this problem continues, please contact your system administrator." 
If you are one of the unfortunate users who are facing similar problems and are attempting to fix Windows defender error code 0x8e5e021f we have you covered. Our article here will discuss some of the effective ways to resolve defender error code in a hassle-free manner.
Before we move on to our troubleshooting guide let's have a quick look at some of the reasons behind the Windows Defender Error Code.
What are the Common Reasons Behind Windows Defender Code 0x8e5e021f ?
Here are a few reasons that can plague your device with a defender error code. 
Malware Infection.

Conflicts with other antivirus software installed on your computer.

Corrupted and faulty registry entries. 
Simple Methods To Fix Windows Defender Error Code 0x8e5e021f
In this segment, we will describe the manual methods along with a software-based automatic way to help you fix Windows defender error code 0x8e5e021f easily and quickly. 
To start with you can try rebooting your device to overcome basic working glitches. However, if you still encounter defender error code then try the below methods to fix it. 
Method 1: Restart Security Center Service on Your Windows PC
This method offers a simple way to overcome Windows defender error code 0x8e5e021f. Here is how you can accomplish this. 
Press the Window +R key on your keyboard to open the Run dialog box.

Next type of services.msc in the Run box and press Enter or click on the OK button.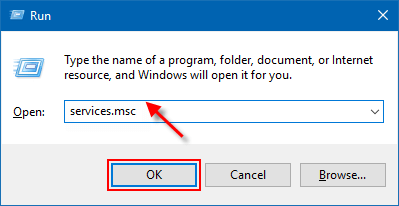 Now from the Services window lookout for the "Security Center" tab.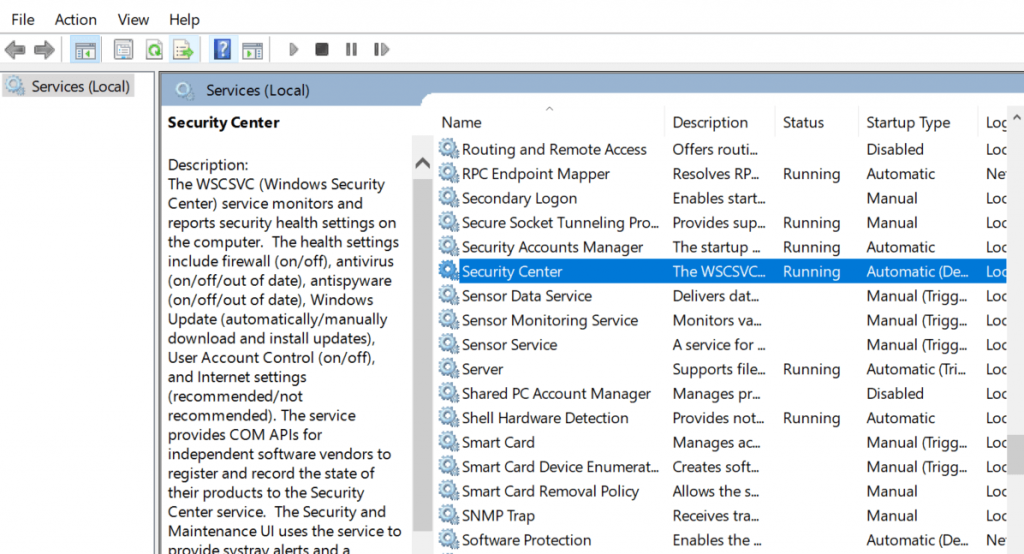 Right-click on it and from the context menu click on the Restart button. 
Once you are through with the above process, reboot your PC to check if your Windows Defender is still plagued with error code 0x8e5e02. If not, move on to check the next method.
Also Know: How to Fix Windows Error Code 1 in Windows [Solved]
Method 2: Activate Windows Defender Using Group Policy Editor
If while trying to use the Windows Defender you encounter an error message saying "The app is turned off by Group policy" you would require to activate it. 
Note: If you are trying to enable Windows defender using the Group policy, first remove all antivirus programs from your device. 
Press Windows + R key to open the RUN box on your PC.

Type Regedit and press Enter or click on the OK button.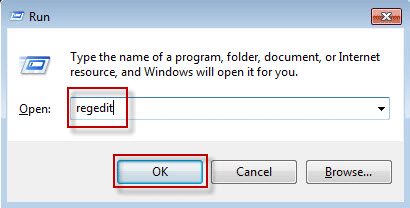 Next in the Group Policy window "

HKEY_LOCAL_MACHINE\\SOFTWARE\\Policies\\Microsoft\\Windows Defender

directory".

From the right pane of the displayed window, look for the entry saying DisableAntiSpyware and change its value to "0'.

If you are unable to locate the specific entry, right-click on the space on Windows Defender Key to create a new DWORD. Name it a DisableAntiSpyware and set its value as "0".

In the end, reboot your device to check if the

Windows defender code 0x8e5e021f

is resolved or not. If not, move on to the next solution.
Method 3: Get Rid of Windows Store Cache
Store cache can be another reason behind the defender error code. Follow the below-mentioned steps to deal with it in the best possible way.
Launch Run Windows by pressing Windows + R key simultaneously on your keyboard.

Type WSReset.exe.

Press Enter and let the command execute.

Reboot your PC and check if the issue has been resolved.
Method 4: Delete Faulty Registry Entries
Another way to fix Windows Defender error code 0x8e5e021f is by deleting the faulty registry entries. 
Press the Windows + R key to launch the RUN dialog box on your computer.

Now type "Regedit" and press OK.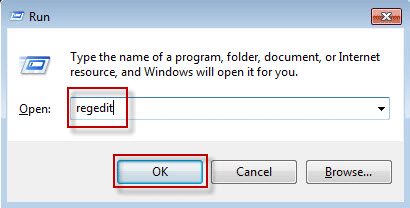 Next navigate to

HKEY_LOCAL_MACHINE\\Software\\Microsoft\\Windows NT\\CurrentVersion\\Image File Execution Option

.

Now, look out for entries named MpCmdRun.exe, MSASCui.exe, or MsMpEng.exe.

If you find any related entries right click and delete them.

If not, then it means that faulty registry entries are not the reason behind

Windows Defender Code 0x8e5e021f.
Also Read: How to Fix GeForce Experience "Error Code 0x0003"
Method 5: Update Device Drivers
Another reason behind the Windows Defender Error Code can be outdated and missing drivers. To update them manually follow the below-mentioned steps.
Launch Device Manager on your Windows PC.

Check for all the devices running on your device and look out for any yellow exclamation marks against them. You can check this by expanding the list mentioned in the left pane of the window.

Right-click on the drivers highlighted with yellow exclamation marks and select Properties from the Context menu.

Click on the Update Drive button to update the outdated drivers. Now Restart your device. 
Another simple and effective way to update device drivers is with the help of a dedicated and automatic tool. Bit Driver Updater is one such power-packed software that can update all your faulty drivers most efficiently. Download it using the given link.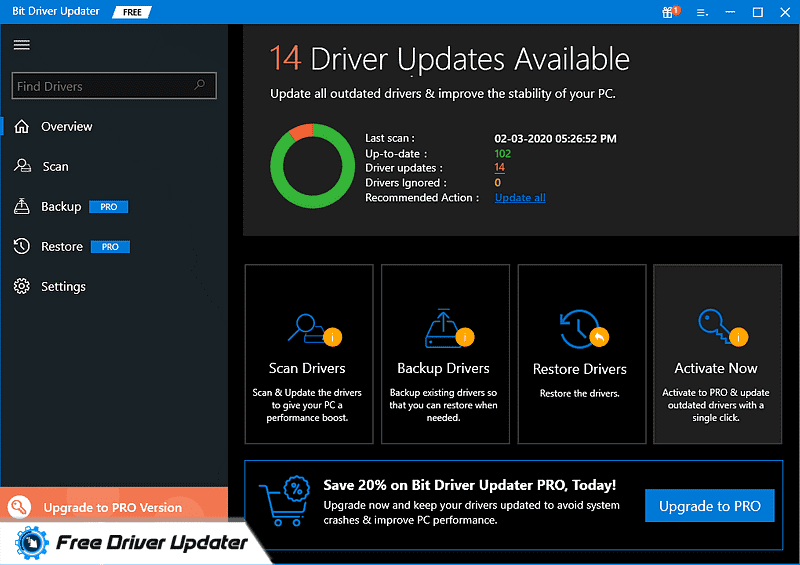 Bonus Tip: How to Update Outdated Drivers on Windows 10, 8, 7
Method 6: Use the Antivirus Program
If the Windows Defender on your Windows PC is still plagued with defender error code, then we recommend you to use a third-party antivirus program alongside. This will reduce system vulnerabilities and safeguard your PC against malicious malware and digital threats. These tools also help ITL Total security is one such all-in-one security suite that you can pick. 
Conclusion
Now that you are well aware of  what is Windows defender error code 0x8e5e021f along with the various methods to fix error code 0x8e5e021f, we hope that you will be able to resolve the problem. Feel free to leave your comment below.