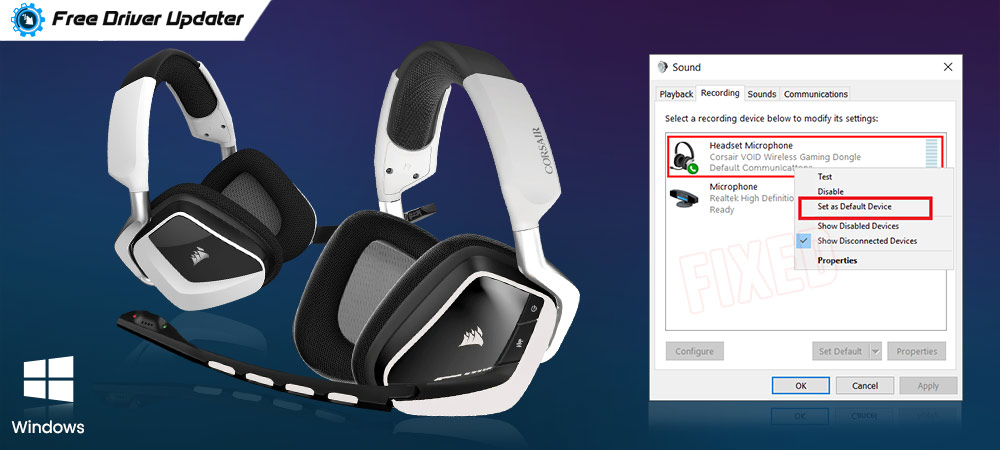 If you are a dash-runner online gamer, then you may be familiar with the Corsair Void Pro Wireless headsets. They are pretty popular amongst online gamers. They are very convenient and lightweight as well. In addition to this, Corsair Void headsets can compose great sound. Despite the handy attributes, many users have reported that their Corsair Void Pro Wireless mic not working properly on Windows 10. But don't worry, try the solutions given below to fix the glitches of your Corsair Void headsets. Before we shift to the fixes here are the possible causes:
Outdated or faulty audio drivers.
Maybe, the microphone is not set as the default device.
Low sample rate.
The microphone is unavailable/out of reach.
Solutions to Fix Corsair Void Pro Wireless Mic Not Working Issue on Windows 10
The write-up has the effective solutions to fix the Corsair Void Pro Wireless mic not working on Windows 10. Without any further delay, let's get directly to it!
Solution 1: Enable Access to Microphone
When you notice that your Corsair headset mic not working accurately, the first thing you should do is – check whether you have enabled Microphone access to the application on which you wish to use the headsets. Here is how you can enable Microphone access:
Step 1: On your keyboard, press the Windows logo key and I key to summon the Windows Settings.
Step 2: Then, on the Windows Settings, choose Privacy and click on it.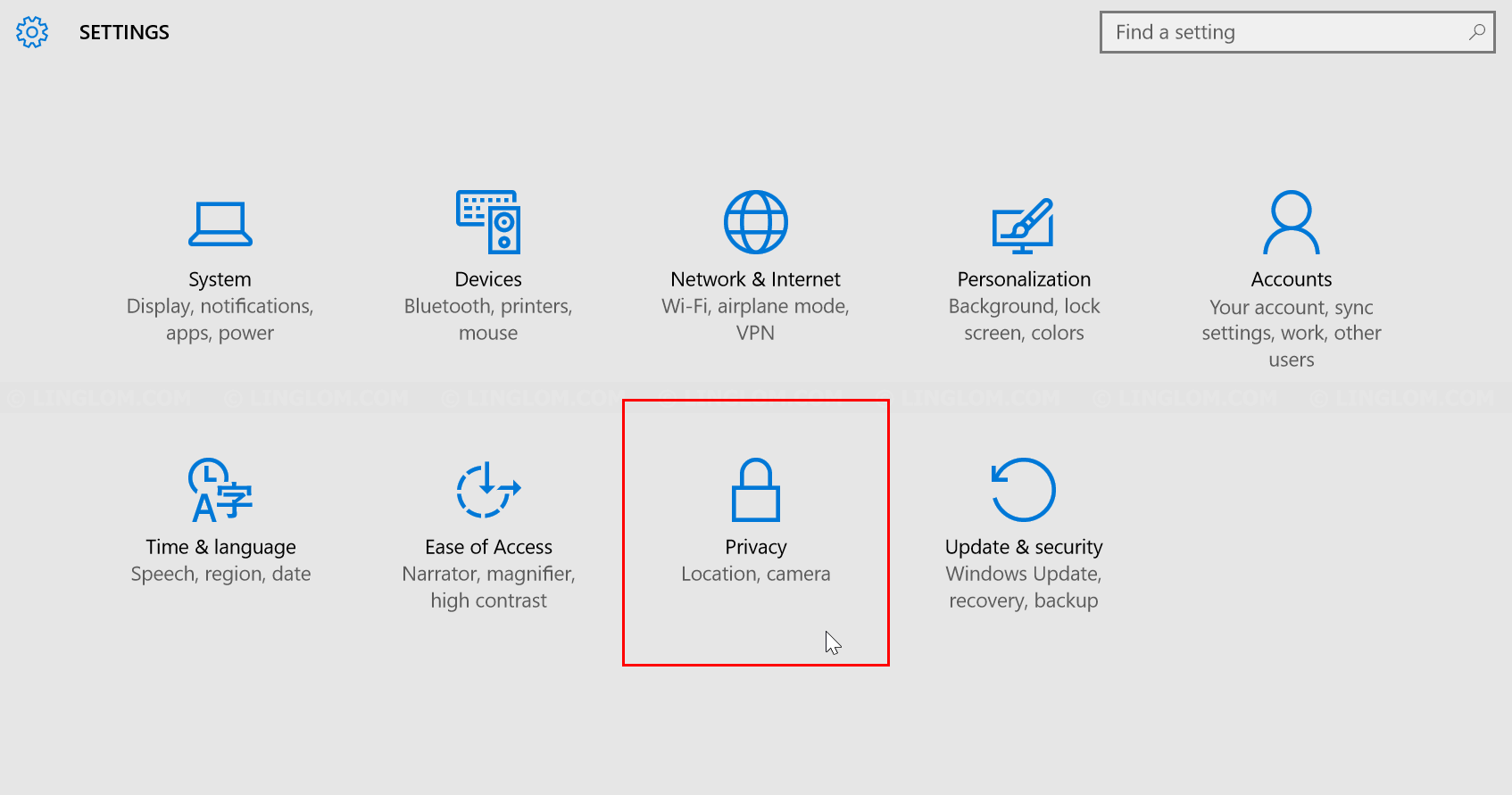 Step 3: In the left pane menu, select Microphone and be sure the toggle is switched on under the Allow Apps to Access your Microphone.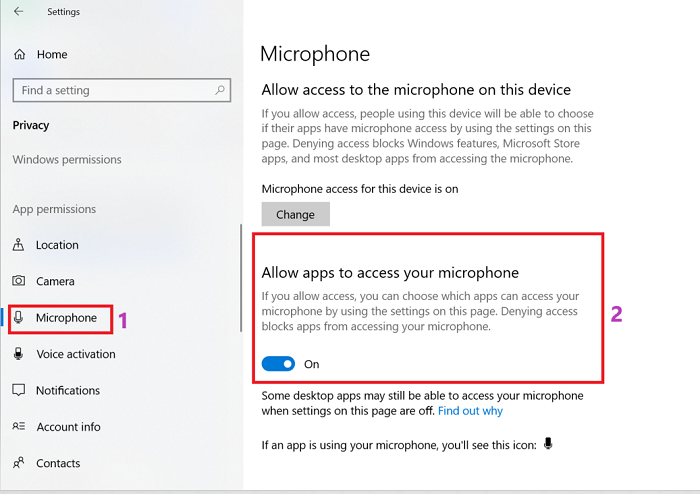 Step 4: Now, scroll down to "choose which apps can access your microphone" and be sure that toggle is switched on presented next to the application for which you want to use your microphone.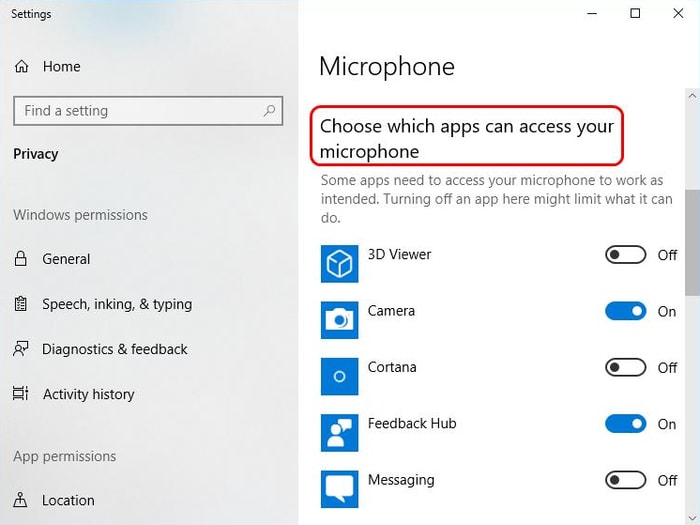 After this, check if your Corsair void mic not working has been solved. Then, you are good to go. But, just in case it still persists, try the following solutions.
Also Read: Download Corsair k63 Wireless Keyboard Drivers on Windows
---
Solution 2: Run the Audio Troubleshooter
You can also use the troubleshooter to detect the issues and fix them too. The troubleshooter is an often handy utility that can fix the headset mic not working problem. Below are the steps on how to run Audio Troubleshooter:
Step 1: Launch Windows Settings by pressing Windows + I keys.
Step 2: Click on Update & Security.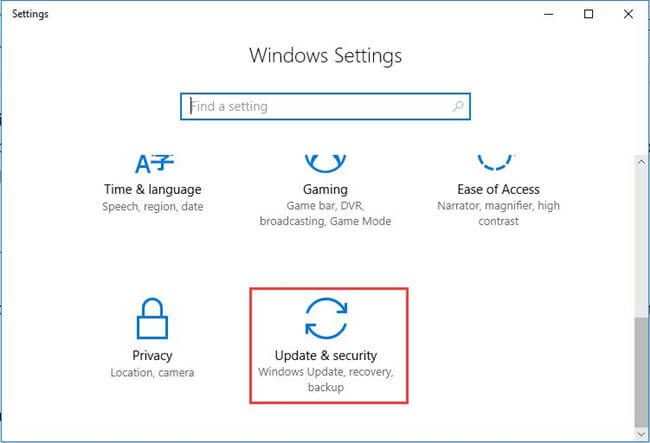 Step 3: Then, in the left pane menu, choose Troubleshoot option.
Step 4: Now, head to the right side of the window, then detect the Playing audio option click on it.
Step 5: At last, click on Run the Troubleshooter.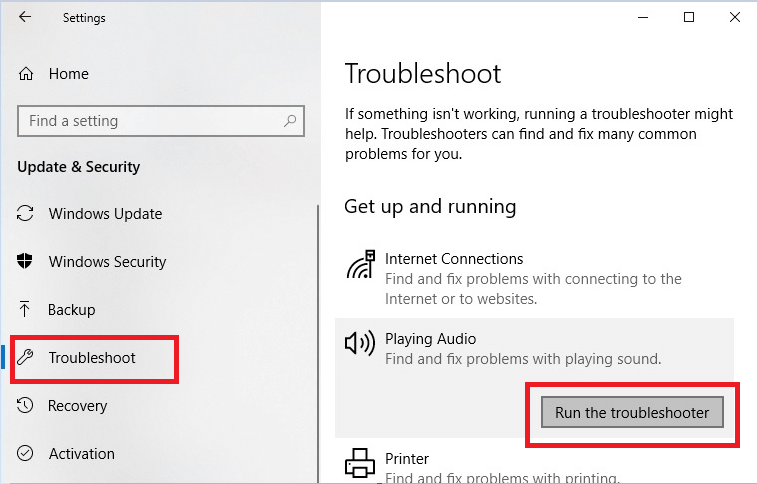 After a final click, the program will run automatically and searches for the problems. To finish the process, follow the on-screen instructions. After running the troubleshooter the problem should be fixed.
Also Read: HyperX Cloud 2 Mic Not Working on Windows 10 [Fixed]
---
Solution 3: Set Microphone as Default Playback Device
Eventually, Windows itself can find the microphone and set it as a default playback device whenever you plugged-in your Microphone. But, that's not always the situation, sometimes, you will need to set it as a default device manually. Here is how you can do so:
Step 1: Click right on the volume rocker icon reflected on the below right corner of your computer screen.
Step 2: Then, click on the Sounds.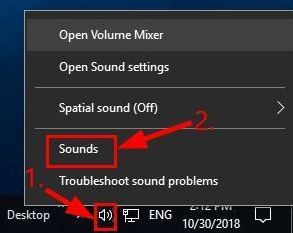 Step 3: Next, switch to the Recording tab, then click on the Headset Microphone Corsair Void Pro Wireless Gaming Dongle, and click on the Set Default option.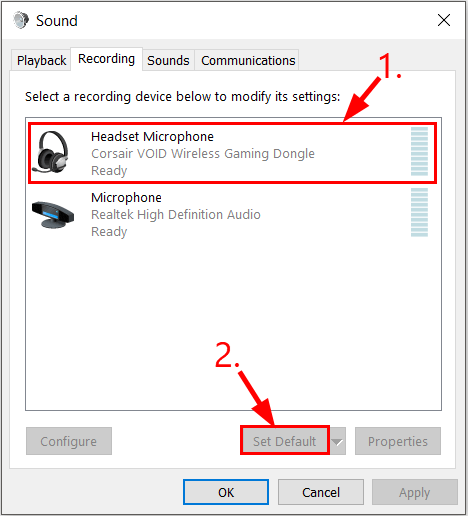 Now, when your Corsair Headset is set as a default playback device, check if your Corsair void pro RGB mic not working problem solved or not.
Also Read: How to Fix WiFi Network Not Showing Up on Windows 10
---
Solution 4: Update Audio Driver
Maybe, you are using outdated, broken, or wrong audio drivers, and hence your corsair void pro RGB wireless gaming headset mic not working. So, update your audio driver just to check if it solves your issue. If you don't have time, skills to update the driver manually, then you can update the driver automatically with Bit Driver Updater. The tool automatically detects the outdated or wrong drivers and updates them in just a few mouse clicks. You don't need to worry about how it works. Bit Driver Updater manages it all.
Step 1: Download and install Bit Driver Updater on your system from the download tab below.

Step 2: Wait until it finishes the scans of your PC for outdated, faulty, or broken drivers.
Step 3: After this, it will list all the outdated drivers and reflects the Update Now button next to the drivers that need to be updated.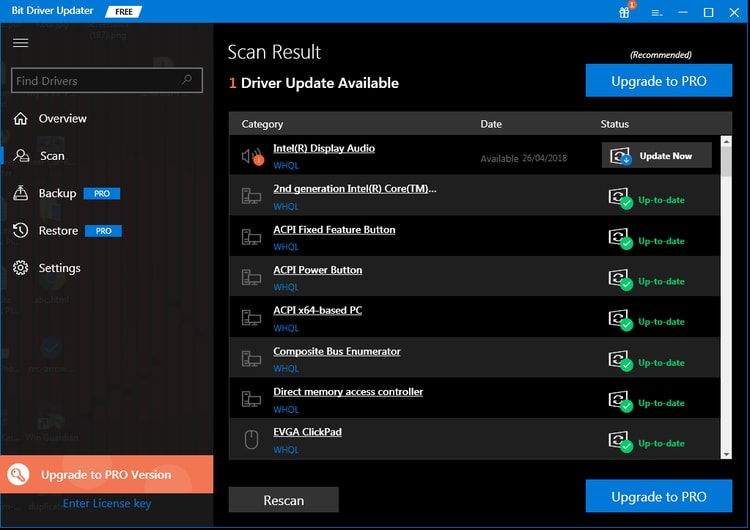 Step 4: You can either click on it or click on the Update All option to update all the faulty drivers in one go.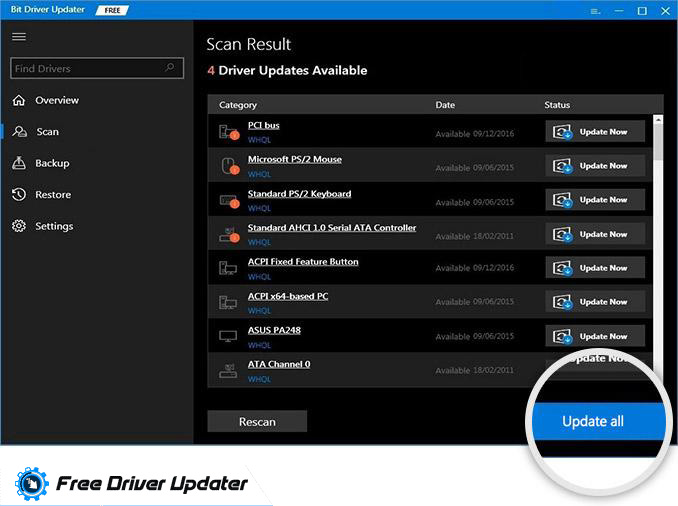 However, you can update the drivers with the free version of it. But, you can shift to its pro version to enjoy the one-click update functionality. All you need to do is – just click on the Upgrade to Pro version button.
---
Easy Workarounds to Fix Corsair Void Mic Not Working with Discord
From the reports we have accumulated online, many users reported that the corsair void mic not working with the desktop app of Discord. Whereas, it is absolutely working fine on the web version of Discord. Additionally, users stated that however, they can listen to their friends but unable to revert them back. And, a massive amount of gamers are heading to Discord just for gaming comfort.
Coming back to the core-point, if your Corsair Void Mic not working with Discord properly, then you can diagnose the issue with the easy workarounds shared below.
Log-out of your Discord app
Run Discord as an Administrator
Set your Microphone as the default Input Device
Turn on Push to Talk
Turn off Exclusive Control in Windows 10
Reset the Discord Voice Settings
Also Read: Discord Screen Share Audio Not Working on PC [Fixed]
---
Corsair Void Pro Wireless Mic Not Working Issue on Windows 10 (Worked)
So, that is how you can fix the Corsair void pro mic not working issue. We hope this post helped you. Let us know the solution that worked for you in the comment box below. Plus, if you have suggestions then feel free to tell us that too in the comments. We will love to hear from you. Lastly, do subscribe to our Newsletter to stay updated and informed!