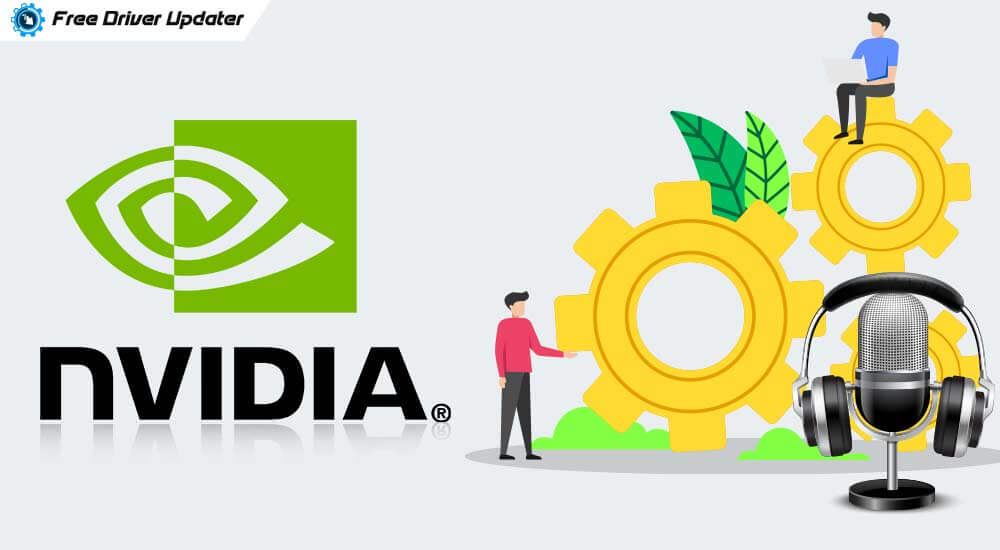 NVIDIA High Definition Audio Driver is responsible for transporting quality sound electronically to your personal computer. So, basically it is designed to send sound over the HDMI and also through the display port connections.
By the use of "NVIDIA high definition audio drivers", your computer is enabled to get 192 KHz/32 bit quality sound, up to almost 8 channels. 
But, when NVIDIA drivers become outdated,  then you might face various sound-related issues on your Windows 10 computer or laptop.
The only possible way to fix this problem is to update the NVIDIA Audio Drivers in Windows 10. But, how? To help you deal with sound issues, we've listed below three easy solutions for updating NVIDIA audio drivers.
Know-What is Nvidia High Definition Audio?
High definition audio software is usually responsible for bringing high quality electronic sound to the PC. They are involved in delivering superior quality sound output through multiple channels.
The Nvidia high definition audio system is a part of the Nvidia graphics card package and is capable of delivering sound output of 192 KHZ/32-bit quality from eight channels. They also support newer audio formats.
3 Easy Ways to Update NVIDIA High Definition Audio Drivers:
Try the below-suggested solutions to update faulty or out-of-date NVIDIA high definition audio drivers present on your system. 
Solution 1: Use Device Manager to Update the Audio Driver
Please follow the below steps to update the NVIDIA high definition audio driver using the Device Manager.
Step 1: Click Windows and R key to Run the dialogue box.
Step 2: Type msc and then press on OK.
Step 3: Find for the sound, video and game controllers after expanding the Device Manager window.
Step 4: Press High Definition Audio Device and right-click upon it.
Step 5: Press on Update Driver from the drop down menu.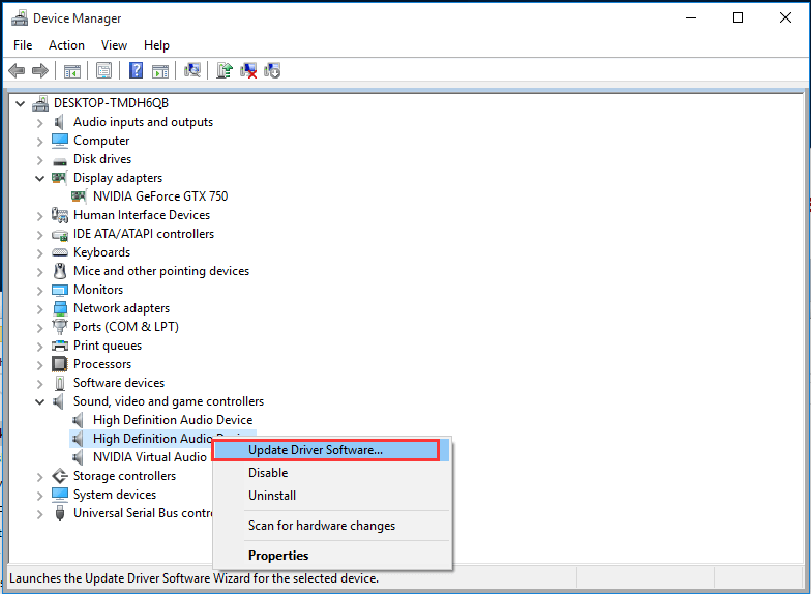 Step 6: Search automatically for updated driver software and press on it. Windows 10 would automatically update your NVIDIA audio drivers Windows 10
Also Know: How to Fix "No Audio Output Device is Installed" Issue in Windows 10
Solution 2: Update Audio Driver From NVIDIA's Official Website
You can also update the driver through the manufacturer's website. How to do that? Please find the steps below.
Step 1: In the manufacturer's page, move on to the NVIDIA HD audio driver download page.
Step 2: Enter product and system information in accordance with the Graphics card and the system version that you have been using. Press the Search button and then continue.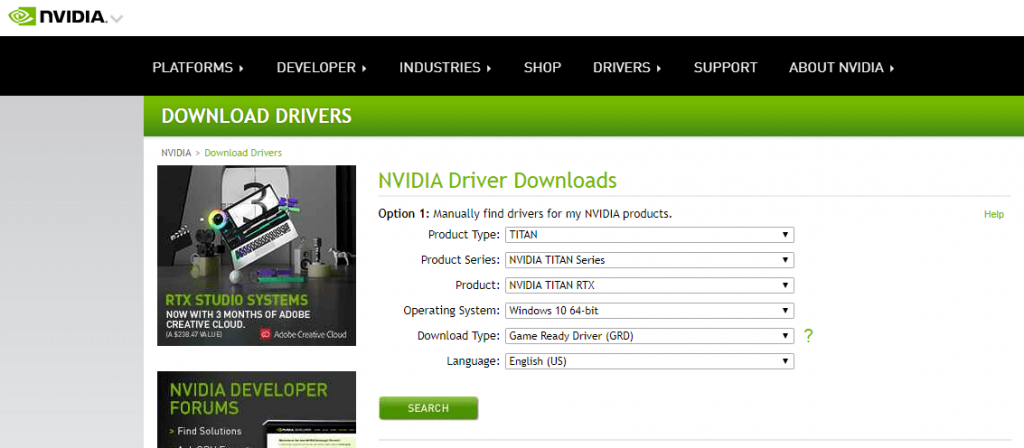 Step 3: You can obtain the Graphics card model under the 'Display Adapters' section in your device manager.
Step 4: The graphics card module can be found under the display card category for adapters in your device manager.
Step 5: Press the Download button.
Step 6: Check on the AGREE box and then download the file.
Step 7: Double click on the exe.file and then follow on-screen instructions to install NVIDIA high definition audio driver.
The Express way (default) would install the program. Now, if the whole DRIVER package is not chosen then you can install NVIDIA high definition audio driver alone by selecting the Custom Install and by un-checking the other part of the driver package.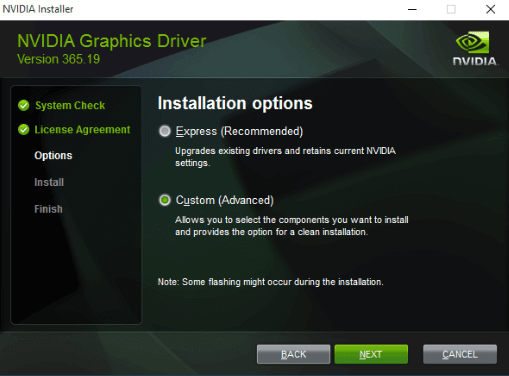 So, now your NVIDIA HD audio driver package is finally updated and installed.
Also Read: Best Free Driver Updater Software For Windows 10, 8, 7
Solution 3: NVIDIA Audio Driver Automatic Update
This is highly recommended since it can save a large amount of your time. You can use Bit Driver Updater for this purpose.
Why do we recommend using the Bit Driver Updater? Due to some of its promising features, of course.
Let's Quickly Brush Through Some Features:
Automatic scanning facility enabled, thus it can scan your entire system if there is any out-of-date, damaged drivers.

It has a huge driver database that is 200% large and can update almost 160000+ official device drivers from almost more than hundreds of prominent brands.

Jet fast download speed helps you download at a 300% more speed. You can download the latest driver updates in just a matter of a few seconds.

PC performance is extremely stable and is supremely enhanced with the latest hardware drivers present across your system.

Completely compatible with the most current versions of Microsoft Windows.
Due to all the above remarkable offerings, you can always rely on Bit Driver Updater without worrying about anything.

You can either choose the free version or the Pro version, whichever suits you the best.

The Pro version can ensure your work is done in just two clicks.

Now select the scan button

It would detect the out-of-date or missing audio device driver whenever one is available.

Once you press the Update button, it would look for the updated version and would download the same on your system.

Now once you are done, just rewire the computer again.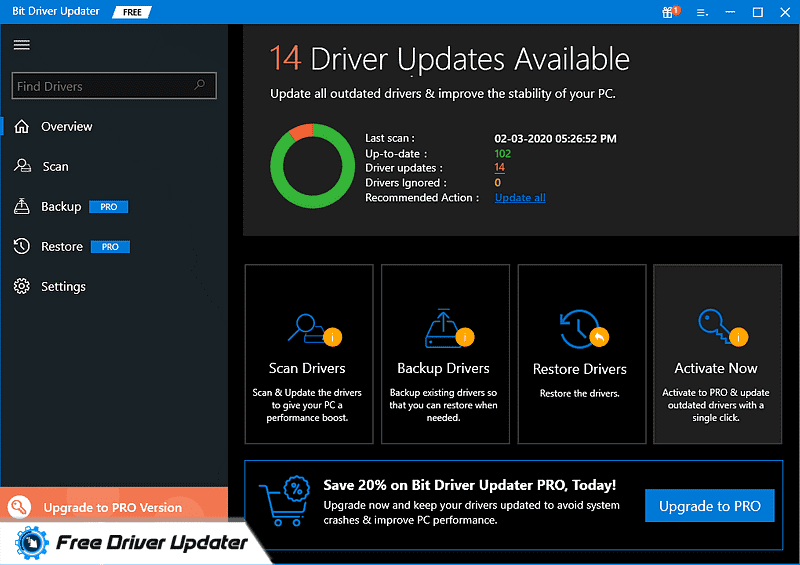 Using Bit Driver Updater, you can save a lot of your time and effort which you might have wasted surfing through the web or your manufacturer's websites.

Hopefully, you would find one of the ways useful for yourself that could fix your problem and would help you update the NVIDIA high definition audio. If you have found your suitable way then make complete use of it in the near future.