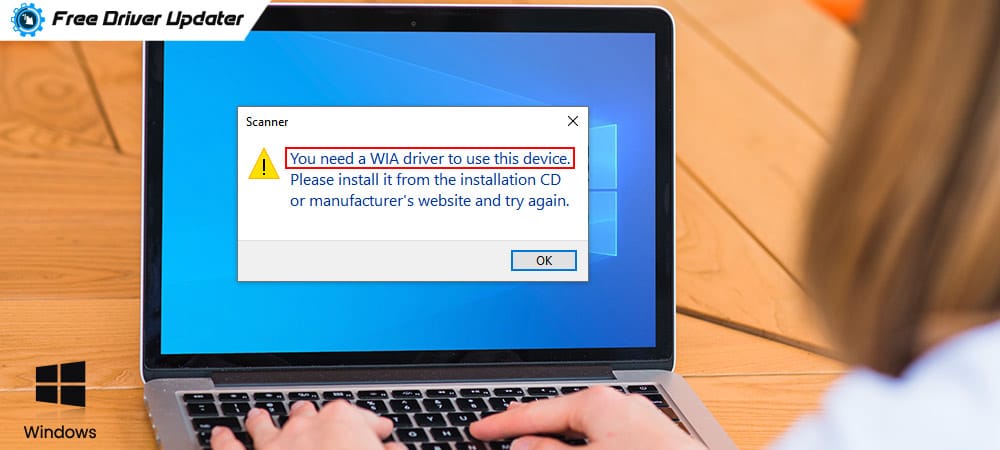 This article shares simple and quick fixes for the "You need a WIA driver to use this device" error on Windows 10. Read on to know more.
It's annoying when you try to use a scanner on your Windows machine but can only see the unpleasant error message: You need a WIA driver to use this device. Please install it from the installation CD or manufacturer's website and try again.
If you're also affected by the problem, do not panic. Fortunately for you, this scanner WIA driver error is quite easy to fix and today, through our step-by-step guide we'll show you how to troubleshoot it. But, first, let's quickly go through what exactly a WIA driver is and what are the possible causes behind the sudden occurrence of this error.
What is WIA Driver Windows 10?
WIA stands for Windows Image Acquisition. It is an intermediate software that helps in communicating between the graphics software and imaging hardware. In short, it allows software like Adobe Photoshop to establish communication with a scanner device for a smooth and uninterrupted experience.
However, under any circumstances, if the WIA driver is outdated or missing from the computer system, then a user can encounter several errors. One of which is 'You need a WIA driver to use this device'. Follow the below guide to fix this problem, quickly and easily.
Ultimate Solution to Fix "You need a WIA driver to Use this device" Scanner Driver Error
The outdated or incompatible device drivers are mainly responsible for this annoying error. Therefore, we suggest you download, install, and update the WIA drivers with Bit Driver Updater. With this easy-to-use software, you can perform an automatic driver update with a single click of a button. Here is the download tab.

How to Fix "You Need a WIA Driver to Use This Device" Error on Windows 10
You can try the below-listed solutions one-by-one till you find the one that helps you get rid of the "You need a WIA driver to use this device" scanner driver error.
Solution 1: Restart or Enable the Windows Image Acquisition (WIA) Service
One of the prominent reasons for this error could be that your WIA service isn't enabled. In this case, you need to enable it to solve the issue. Follow the below steps to do so:
Press down the Windows logo and R key at the same time to invoke the Run dialog box.
In the command box, type "services.msc" and press the OK button (Or hit the enter key).

In the Services window, look for the Windows Image Acquisition (WIA) service, right-click on it, and then select the "Properties" option from the context menu.

Go to the Startup type, choose "Automatic" option from the drop-down list, and then click the Start button.

At last, click the Apply and OK buttons to save the changes.
Also Read: How to Reinstall Graphics Drivers in Windows 10
---
Solution 2: Reinstall the WIA Driver on Windows 10
Sometimes the WIA driver installation could get corrupted which may affect your device and cause the error. In that case, you can simply try uninstalling and reinstalling WIA drivers for your scanner device to resolve the issue. Below are the steps to do it.
Open the Run dialog box (Win+R) and enter "devmgmt.msc" to launch the Device Manager tool on Windows.

Once Device Manager comes up, click on the "Imaging Devices" category to expand it.
Right-click on the troublesome scanner device and select "Uninstall device" from the visible options.
When prompted to confirm, click 'OK' or 'Uninstall' button.
Restart your computer and open the Device Manager application again.
Click on Action > Scan for hardware changes.

Now Windows will automatically detect and install the WIA driver for your scanner.
Also Read: NVIDIA Control Panel Missing in Windows 10, 8, 7 [Solved]
---
Solution 3: Update Scanner WIA Driver on Windows 10
Outdated, missing, or malfunctioning WIA drivers are also the prime reasons for which you get the "You need a WIA driver to use this device" error. Hence, in order to resolve it, you can try updating your driver. There are mainly two ways to do so: manual and automatic. However, we recommend you to opt for an automatic method as it not only saves your valuable time but also lets you install authentic drivers with great ease.
As mentioned above, you can use the Bit Driver Updater application to perform WIA driver download and update snappily. Here's how.
Click on the below button to download and install the application.

After successful installation, open it and initiate driver scan by clicking on the "Scan Drivers" button.
Once you get the results, click the "Update Now" button present alongside the scanner WIA driver to automatically install its most recent version on your system.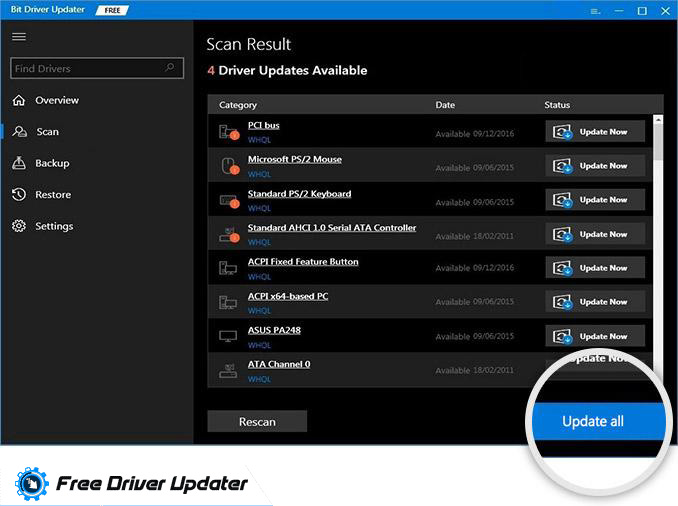 ---
Concluding Words
In this post, we discussed some simple and reliable fixes that you can try to fix "You need a WIA driver to use this device" scanner driver error on Windows 10. Hopefully, your scanner is now working properly after performing these troubleshooting steps. However, if you have any additional questions or require further clarification, please let us know through the comment box below.