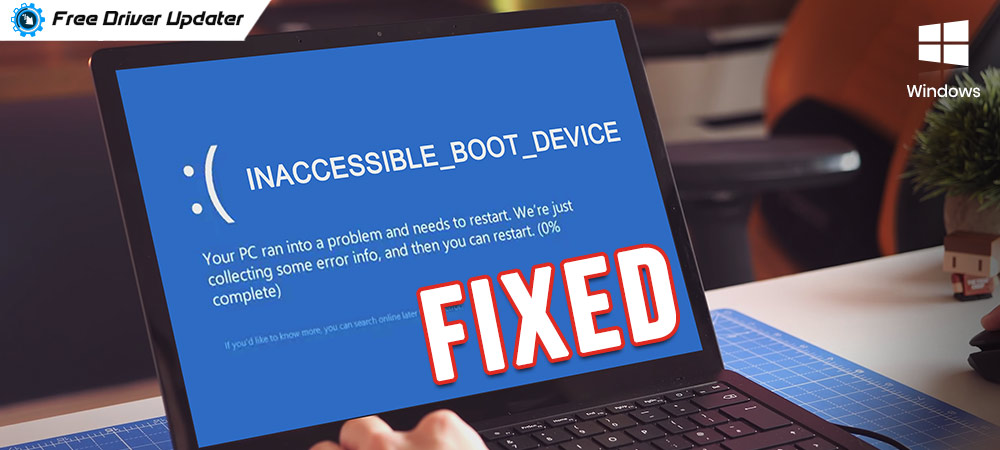 Windows 10 is prone to some errors and troubles that need fixing from time to time. If you are not a tech savvy person, then the appearance of errors like the inaccessible boot device on Windows 10 might scare or perplex you. 
In actuality, the stop code inaccessible boot device is a fixable error and, is in fact, a kind of BSOD (Blue Screen of Death) error having error code 0x0000007b.
So, we have prepared a blog that will inform you more about this issue and what are the ways to fix Windows 10 inaccessible boot device error.
Understanding Inaccessible Boot Device Error in Detail:
As mentioned earlier, stop code inaccessible boot device issue is a type of BSOD error that shows up when Windows is either starting up or after users have upgraded to Windows 10 OS. Other times when error code 0x0000007b shows up is after resetting Windows 10 or post installing Windows 10 anniversary update.
To explain simply, the appearance of inaccessible boot device error means that Windows is unable to access the system partition while booting up after an automatic update was installed by Windows. This issue is specifically seen on computers relying on SSDs.
In a way, the inaccessible boot device error tells the PC that it has encountered a certain problem and therefore, needs to restart to resolve this error. So, this makes Windows boot up again and again in an attempt to make the operating system access the system partition. 
Let's take a look at the underlying causes behind the BSOD (stop code inaccessible boot device) error below.
---
What causes inaccessible_boot_device?
Stop code inaccessible boot device error is caused by the following:
Latest updates of Windows.

Old, damaged, or inappropriately configured system drivers.

Presence of malicious software in the system.

Corrupted HDD or SSD.

Hardware conflicts due to system updates/ BIOS updates .

Overclocked hardware components and CPU.
Also Read: How to Fix Common Driver Problems in Windows 10, 8, 7
---
Resolve Inaccessible Boot Device on Windows 10:
Having a clear idea of what causes the Windows 10 inaccessible boot device error, let's now take a look at the solutions to fix error code 0x0000007b.
Fix 1. Uninstall Latest Windows Update Packages
If Windows has installed the latest available updates on your computer, then one way of fixing inaccessible_boot_device is by uninstalling the latest Windows Update packages from your computer.
You can uninstall the packages by utilizing the Repair service of Windows and the DISM command. Here's how you can do it:
Step 1. Switch on the computer and then force switch off the computer immediately by pressing the power button.
Step 2. Repeat the above process twice, until the "Preparing Automatic Repair" screen pops open.
Step 3. You need to wait till the Windows Diagnostic process completes.
Step 4. To open the Windows Recovery Environment screen, you can tap on the Advanced option.
Step 5. Hit Troubleshoot appearing on the Windows Recovery Environment screen.
Step 6. Next, on the Troubleshoot screen, select the Advanced option followed by selecting the Command Prompt.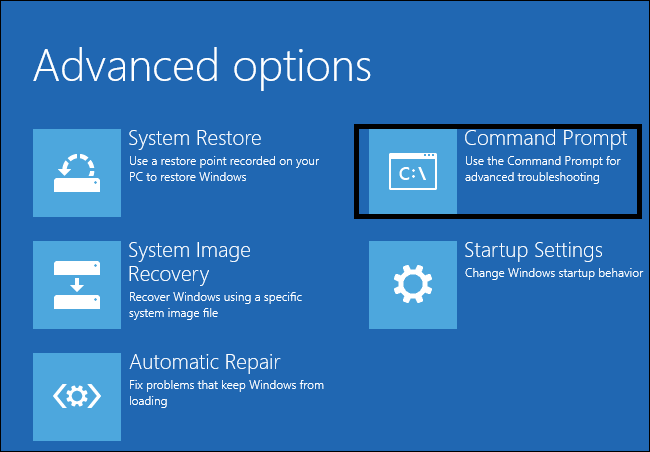 Step 7. Type the following commands on the Command Prompt screen and press Enter after the commands:
Type dir c:\
Run Dism / Image: C:\/ Get-Packages
You will see a list of recently installed packages that you need to uninstall by running the below command: dism.exe /image:c:\ /remove-package /[package name]
Step 8. Ultimately, reboot your system and see if the error has been fixed now.
If the problem of stop code c persists, then proceed to the subsequent fixes.
---
Fix 2. Fix Corrupted Device Drivers Automatically

The most prudent way of dealing with any kind of BSOD error like the inaccessible boot device is by fixing corrupted and faulty device drivers especially the graphics card driver.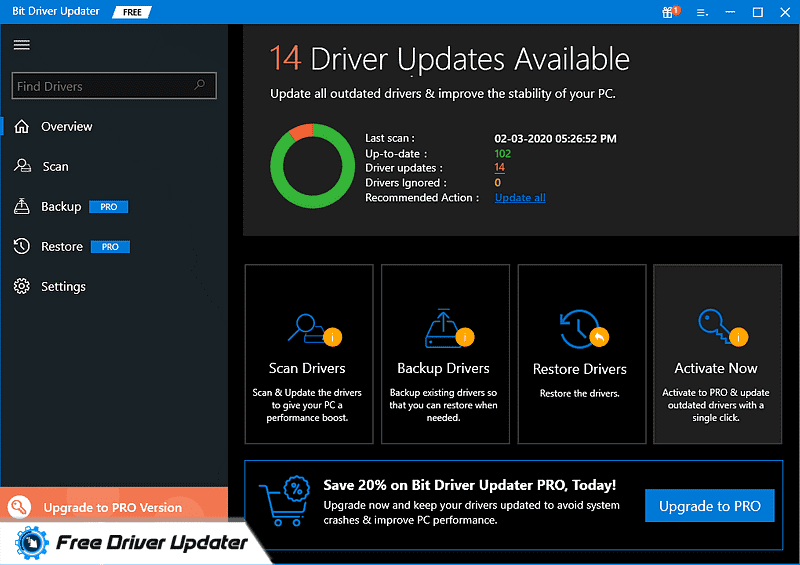 You can do this by installing the Bit Driver Updater tool which can scrupulously detect the faulty device drivers of your Windows 10 computer. Then, the tool will automatically download and install the WHQL certified latest versions of those faulty device drivers.

Thus, when the corrupted drivers are updated, it will fix the inaccessible boot device problem consequently.
---
Fix 3. Enable AHCI Mode in BIOS
Windows 10 inaccessible boot device error can also be fixed if you enable AHCI mode in BIOS as per the following steps:
Step 1. Start your computer and while it's booting, press F2 or Del continuously to enter the BIOS.
Step 2. Here navigate to the Advanced segment and alter the "Set AHCI Mode" to Enabled.
Step 3. Alternatively, you can alter the settings of the AHCI Mode Control to Auto.
Step 4. Finally, save all the new settings and reboot your Windows 10 computer.
---
Fix 4. Fix corrupted Hard Drive
As we have mentioned earlier that the Inaccessible_Boot_Device error happens due to the inability of the OS to access a certain system partition, therefore, it is quite evident that if you fix the corrupted Hard Drive, then the issue of inaccessible boot device on Windows 10 could be resolved. You can run a chkdsk scan in the following way:
Also Know: How to Update Outdated Drivers on Windows 10, 8, 7
Step 1. Launch the Command Prompt and choos to run it as an admin.
Step 2. Enter the following commands and press Enter successively: chkdsk /r C: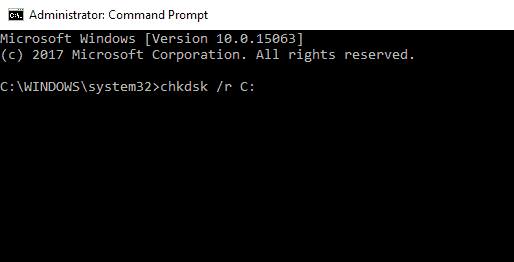 Step 3. After this, you will have to reboot your computer and schedule a scan by typing "Y" and then pressing the Enter key.
Once the computer restarts, chkdsk will automatically start scanning the hard Drive and will troubleshoot the problem.
---
Fix 5. Run Windows BSOD Troubleshooter
Inaccessible boot device is a type of BSOD error, therefore, you can take help of the in-built Windows Troubleshooting tool as per the below steps:
Step 1. Launch the Settings app and click on the Update & Security segment.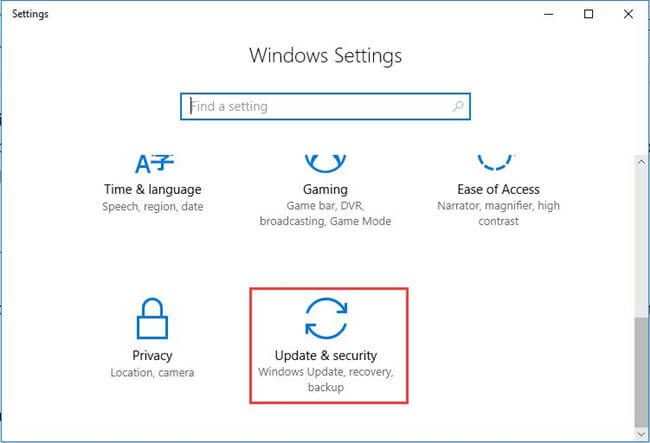 Step 2. Click on Troubleshoot from the side panel.
Step 3. On the main window, choose the BSOD section and then hit the "Run the troubleshooter" button.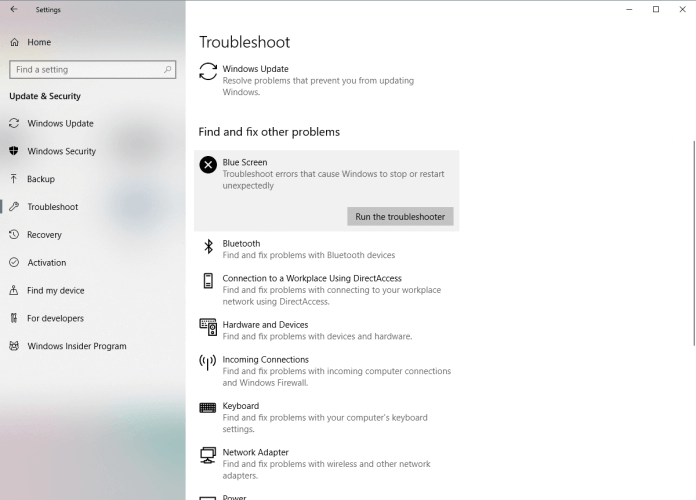 Step 4. As the troubleshooter tool is set at work, it throws some on-screen prompts for you to act accordingly, and finish the process of troubleshooting and fixing the inaccessible boot device issue.
---
Windows 10 Inaccessible Boot Device Error

: Resolved
You are now well versed with what is Windows 10 inaccessible boot device error, what causes it and how novices as well as experts troubleshoot those problems to get rid of the inaccessible boot device error.
Ultimately, it's important to fix all the inaccessible boot device issues to avoid severe system damage and complications from happening in future.
The fixes of inaccessible_boot_device error have been elaborated in a step-by-step manner in the above portion of this article. If you have some doubts regarding those methods, then do let us know your concerns in the comments box below. We would happily get back to you with a solution.
We also welcome your suggestions and other questions. Feel free to reach out to us and do subscribe to our email notifications, else follow us on your favourite social media platform.