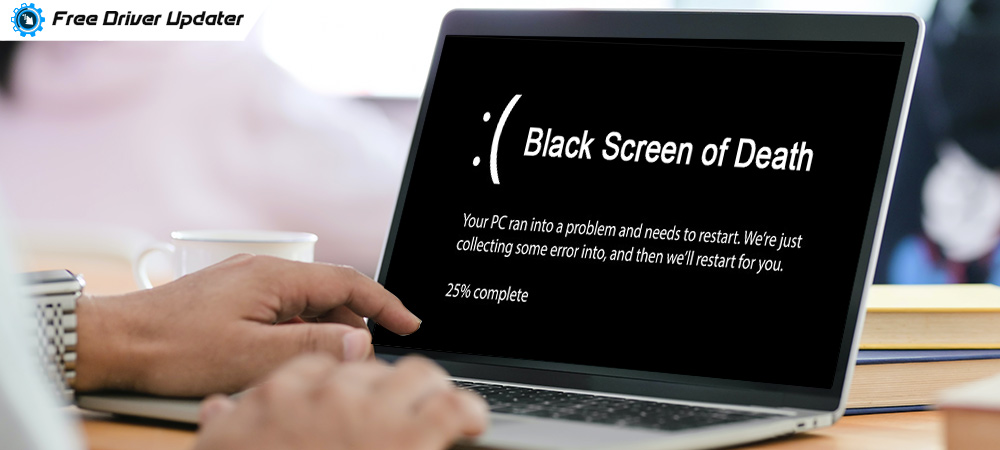 Does the idea of getting a blue screen of death terrify you, then hang on the Black Screen of Death is even worse. What makes it highly destructive is that it does not even give you a hint that there is something wrong with your laptop or desktop computer.  
Identifying and fixing the black screen of death error on a Windows computer is very challenging since the users are not aware of the cause, finding a way to troubleshoot it becomes even more difficult. 
Considering this, here we're going to discuss some of the possible causes of the Black Screen of Death error along with the possible fixes. So, without wasting any more time let's walk through our troubleshooting guide. 
Black Screen Of Death Error | Decoded
Black Screen of Death is a failure or error condition faced by users running Microsoft Windows devices. 
As its name suggests, it means that your Windows device will get locked and your screen will turn entirely black. The issues get triggered due to several reasons some of the common ones are explained below. 
What are the Common Causes of Black Screen Of Death on Windows 10?
Various factors can result in a Black Screen of Death issues, here are some of the most common ones.. 
Recently installed Windows updates

Overheating of components

Display and driver issues

Incomplete installation of Windows 10

Issues with power supply
So, these are some of the reasons behind encountering the black screen issue. Well, thankfully all of these issues can be easily fixed and resolved. So, let's quickly move on to learn "how to fix the black screen of death Windows 10."
Also Know: How to Fix Blue Screen of Death Error on Windows 10
Simple Ways to Fix Black Screen of Death Error on Windows 10 PC
There are multiple approaches in which you can fix the black screen issue on your computer (both laptop and desktop). The most workable ones are listed below for you. 
Way 1. Take Care of System Overheating Issues
System overheating is one of the possible causes behind the Black Screen of Death. To deal with it, turn off your device and allow it to cool down for some time, if required you can also use an external cooler for it. In addition to this dust accumulation around the fan and vent also results in overheating. Consider cleaning it on your own or ask for technical assistance from an expert to get the issue resolved.
Apart from this also ensure that your computer is placed correctly. This will allow the air to circulate properly and will keep your device cool.
Way 2. Fix the Black Screen Error Using Advanced Options
Advanced options like "System Restore" and "Go to Previous Version" also provide an easy way to solve the Black Screen issue on your Windows PC. 
System Restore:

These methods will take your computer to the last restore points, however, you will not be able to use any of the applications that were installed after the restore point was created.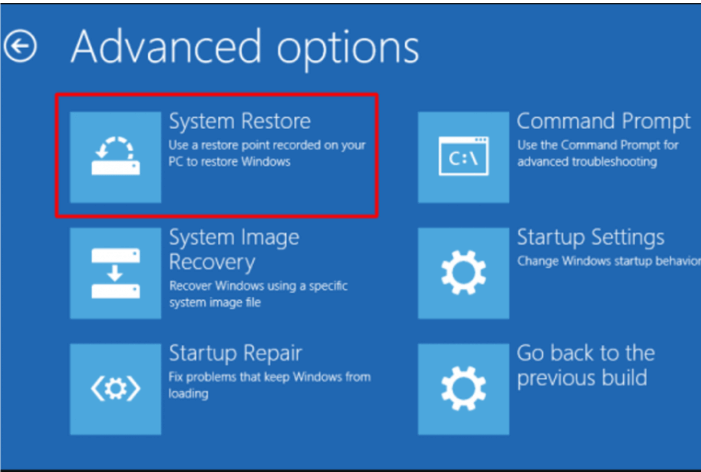 Go to the Previous Version:

This method solves the Black Screen of Death problem in most of the cases. It only takes your system back to the version where it was working smoothly and does not impact the working of any applications.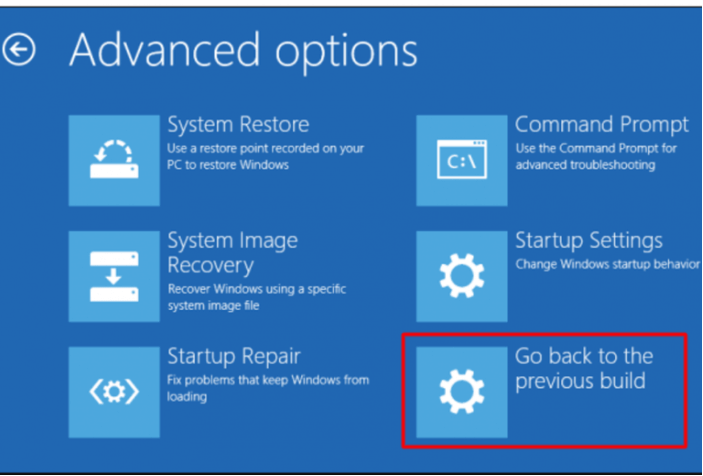 Way 3. Check Software Incompatibility to Fix the Black Screen Issue
Incompatible and obsolete software can also be one of the main problems. This usually happens when we try to run an old program that is not compatible with the OS version; it results in BSOD. 
To avoid running into this overwhelming situation we advise you to run the Compatibility Troubleshooter. This will help you understand what all programs run successfully in the compatibility mode with the previous version of the Windows Operating System. Here is how it works:
Choose the program that you are trying to run and right-click on it. 

Now click on the Properties button followed by the Compatibility button.

Finally, click on the "Run compatibility troubleshooter" to check the compatibility of your program. 
Also Read: How to Fix Red Screen of Death in Windows 10
Way 4. Make Sure Your Graphics Drivers are Up-to-date
Overloading your GPU with heavy and powerful games can also result in the Black Screen Of Death issues. For this, you need to update the graphics drivers on your device. There are multiple steps involved in this process, let's understand them in detail. 
A. Boot Your Windows System In Safe Mode
To start with, open a new window on your computer and then click on the Restart button along with the shift key. Keep pressing it until you see the "Please Wait for" message. 

From the displayed window click on Troubleshoot.

Next click on Advanced Option followed by the Startup Setting to boot in safe mode. 

Now click on the Restart button then press the F5 key and select "Enable Safe Mode with Networking".

Now from the safe mode you can go to the Device Manager and move onto the next step. 
B. Uninstall Graphic Drivers
From the Device manager select the Display Adapter option and expand it. 

Right-click against your graphic driver and click on the Uninstall button.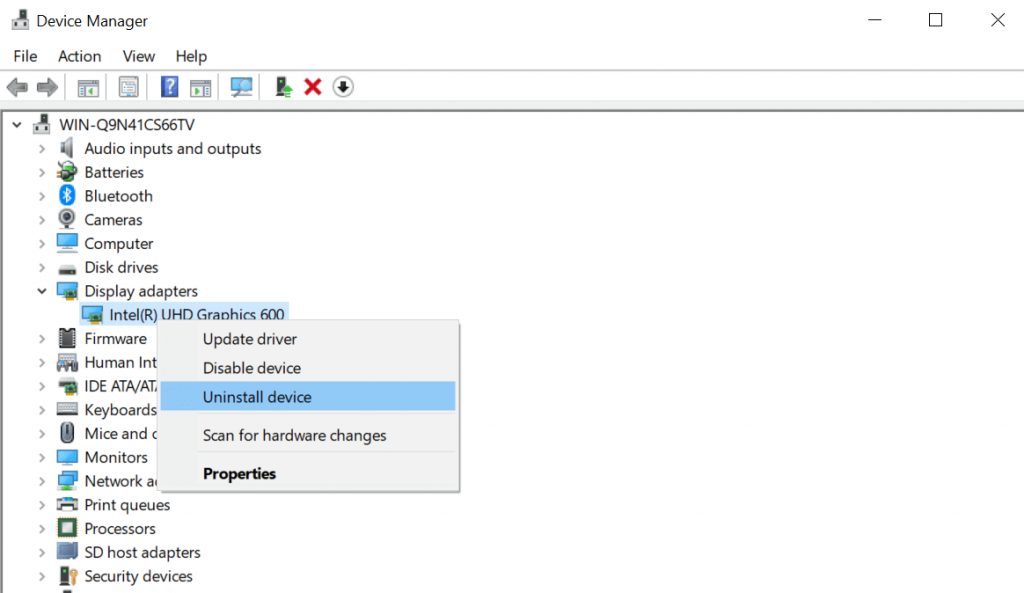 Once the drivers are completely uninstalled your Windows OS will automatically install the most compatible versions of graphic drivers on your device. 

Restart your PC to see if the Black Screen of Death issues are resolved or not. 
C. Update Graphic Drivers
If your system is still plagued with the Black Screen of Death ERROR then, you should consider updating your graphic drivers. You can download and install the latest driver version from the manufacturer's website or use Device Manager to update your faulty graphics drivers. However, if you want to save yourself from this tedious task we recommend you pick an efficient driver updater software like Bit Driver Updater. This intelligent tool efficiently scans your whole computer, detects all the bad and out-of-date drivers, and then lets you install the most compatible and latest driver versions in no time. To get this utility and update your graphics driver for free, you can simply click on the below button.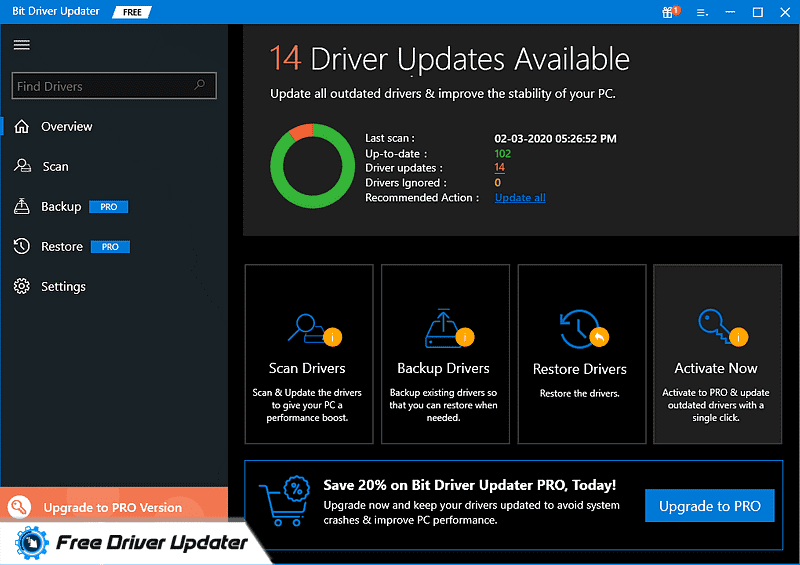 Way 5. Reset Your Windows PC
If none of the above-mentioned methods have fixed the black screen issues for your, then try resetting your device. You can do it with the help of the Windows Settings option. Launch the Windows Settings and then click on the "Update and Security" button. Then go to the Recovery option from the left pane and click on the "Get Started" button from the list of options displayed on the right-side panel. 
Here you will be asked to choose from two options: Remove Everything and Keep my files. Pick the best-suited option that works in your favor. In addition to this, there are few more options that you can try to fix the Black Screen of Death issue.
Few Additional Fixes For Black Screen of Death Error
Disconnect hardware peripherals of your device to identify the problematic device.

If you are using a laptop, then remove the battery and reconnect it once.

Disable your antivirus software to reduce system load.

In addition to uninstalling all the recently installed programs from your device, compatibility issues also lead to Black Screen issues. 

Disable high contrast from the Settings tab. 
Bonus Tip: How to Fix Skyrim Infinite Loading Screen Issue
Conclusion
We hope that the above-mentioned methods will help you address and fix Black Screen of Death error on your Windows 10 PC. Updating the device drivers and operating system from time to time is a proven method that helps you counter issues related to your system screen. 
Refer to our troubleshooting guide and see which method works best for you.