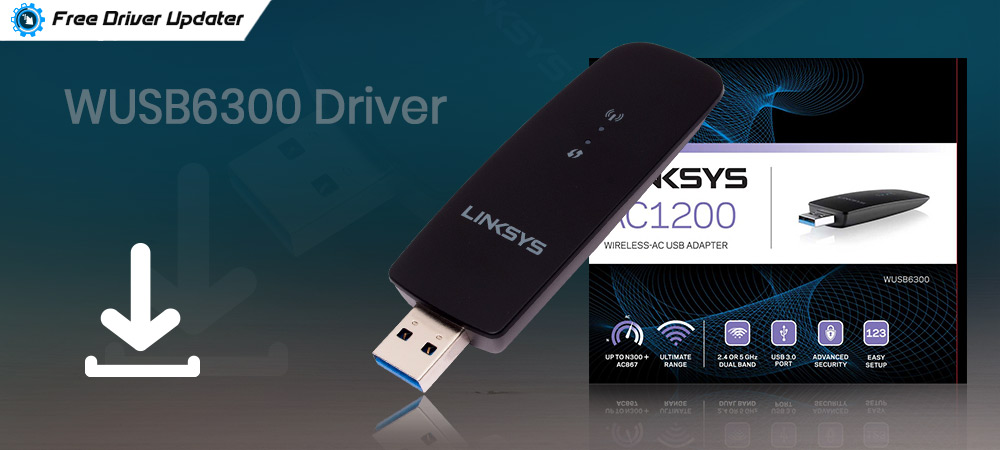 If you want to keep your Linksys WUSB6300 wireless USB adapter device in tip-top shape, you should keep your Linksys WUSB6300 driver up-to-date. Read on to know how to update Linksys WUSB6300 driver effortlessly.
Are you unable to access the Internet? Does your system freeze whenever you try to connect to the Internet via your wireless adapter? If so, there's no need to panic as you can troubleshoot such network connectivity problems by yourself in a matter of minutes. How to do this is what we are going to discuss through this following Linksys WUSB6300 driver download article.
Not being able to connect to the Internet 24/7 or issues like weak WiFi signals can occur due to various reasons, but the most possible culprits are missing or outdated wireless and network adapter drivers. To overcome such problems, all you need to do is download and install Linksys WUSB6300 driver on your Windows 10 laptop or desktop computer. Our below section will show you how to do it quickly and easily.
How to Download & Update Linksys WUSB6300 Driver on Windows 10
Below we have described various methods to download Linksys WUSB6300 driver on Windows 10 PC. You can also use them to update your outdated driver and troubleshoot wireless and network driver problems with your Linksys Wireless USB 6300 device.
1. Download & Install Linksys WUSB6300 Driver Manually from Support Website
Similar to other leading PC and hardware manufacturers, Linksys also offers driver support for its products and devices. Hence, one can use it to download the latest version of outdated drivers. Here's how to download the Linksys WUSB6300 driver on your PC through the official website of Linksys. Linksys
Go to the official support page of Linksys.
Type the name of your product, i.e., Linksys WUSB6300 in the given search box.
Choose the Linksys WUSB6300 AC1200 Wireless-AC USB Adapter from the list of search results.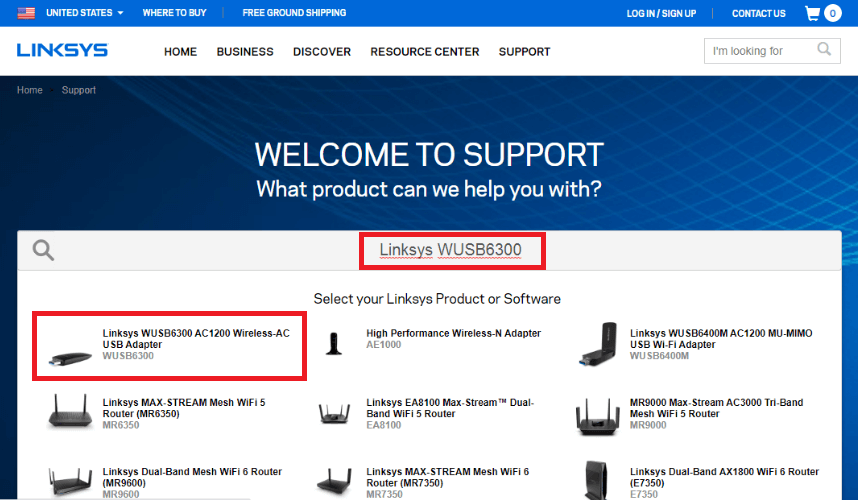 Next, select the DOWNLOADS / FIRMWARE option.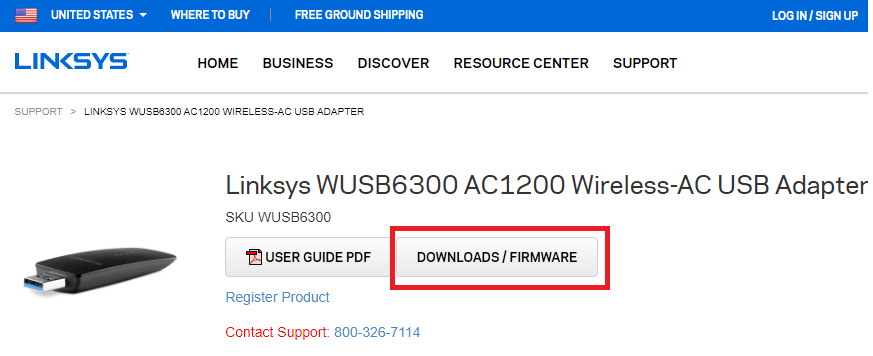 Click on the Version 1.0 to expand the list.
Next, download a suitable Linksys WUSB6300 driver pack corresponding with your specific Windows edition.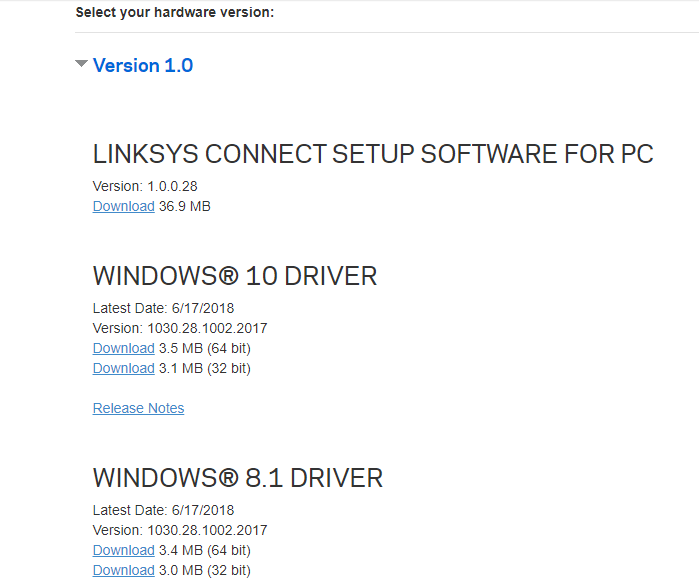 After the Linksys WUSB6300 driver download process gets finished, run the downloaded setup file by double-clicking on it.
Then, follow the on-screen instructions carefully to install Linksys WUSB6300 driver on your Windows system manually.
Read More: Download and Update HP Universal Print Driver in Windows 10
---
2. Download & Update Linksys WUSB6300 Driver Using Driver Manager
Most PC users don't know that Microsoft Windows comes with an in-built utility called Device Manager to resolve all the hardware and driver-related problems. Here are the steps through which you can update and download Linksys WUSB6300 driver with the help of Device Manager.
Search for the Device Manager and select the Best match result.

Locate your wireless Linksys WUSB6300 USB adapter device, right-click on it, and then select the Update Driver Software option from the context menu.
Next, choose the automatic option to look for the updated version of Linksys WUSB6300 driver software.
Now just wait for a while until the Windows operating system searches for a new Linksys WUSB6300 driver version and installs it on your computer system. However, even after doing all this, there's a chance that you might end up disappointed as Windows often fails to detect recently released driver updates.
Also Read: Download and Update Mouse Driver on Windows 10 [Fixed]
---
3. Download Linksys WUSB6300 Driver Automatically With Bit Driver Updater
This is, without a doubt, one of the most quickest and reliable options to update and install Linksys WUSB6300 driver on your Windows 10 PC. Unlike the above-mentioned manual methods, Bit Driver Updater can help you repair and update all the broken and out-of-date device drivers without the need of performing several tedious steps. Here's how to update Linksys WUSB6300 driver using this amazing driver management tool.
Click on the Download Now button provided below.

Run the setup file and follow simple on-screen instructions to install the Bit Driver Updater application on your system.
After successful installation, start scanning your computer for outdated drivers by clicking on the Scan Drivers button.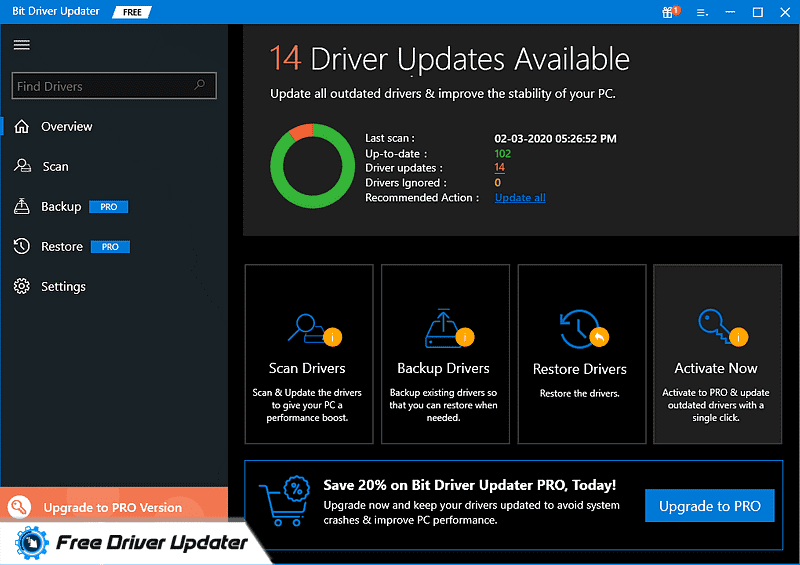 Analyze the scan results, look for the Linksys WUSB6300 driver, and click the Update Now button.
---
Best Approach For Linksys WUSB6300 Driver Download
Through this post, we discussed the best ways to download, install, and update Linksys WUSB6300 driver on Windows 10. All of the aforementioned methods are quite effective in downloading and installing the latest driver updates for the Linksys WUSB6300 USB adapter device. Yet, if you need suggestions, we would like to recommend you to go for the tool-based automatic approach. It is quite fast and effortless, resulting in saving you a lot of time and effort.
Furthermore, if you know some other way that helped you download Linksys WUSB6300 driver easily, then do let us know about it via the comments section provided below.