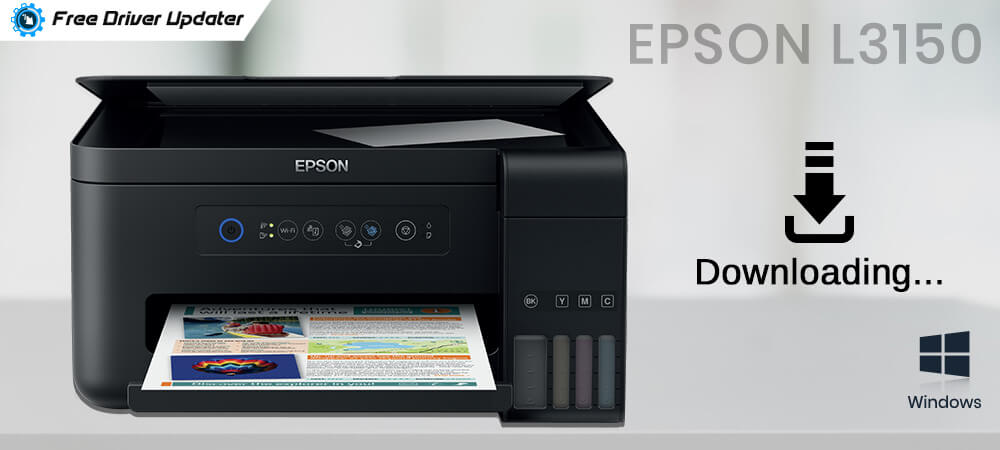 If you're looking for the Epson L3150 driver, you've arrived on the right page. Here we're going to discuss several helpful ways on how to download Epson L3150 printer driver on Windows 10 PCs.
Faulty, missing, or out-of-date printer drivers can cause a number of printer glitches such as printer's offline or not responding. If you're using an Epson EcoTank L3150 Wi-Fi all-in-one ink tank printer, it's essential that you have the latest correct driver for your printer installed on your laptop or desktop computer at all times. Keeping the printer drivers updated not only helps keep all sorts of printing errors at bay but also tweaks and optimizes your Windows for better and faster performance. So, without further ado, let's move to our Epson L3150 driver download guide that will provide you with various methods to download, install, and update Epson EcoTank L3150 driver for your Windows devices.
Epson L3150 Printer Driver Download, Install and Update Methods
There is a multitude of options to update and download Epson L3150 driver on Windows 10. But, not all of them are the simplest. Therefore, below we have described the non-cumbersome ways to download the latest Epson L3150 WiFi drivers for your printer.
1. Download & Update Epson L3150 Driver with Device Manager
Although it is quite time-consuming and tough to download and install Epson L3150 printer drivers manually, still if you want to try doing it, then you can take the help of Windows built-in utility called Device Manager. Below are the steps to do it.
Type Device Manager in the search box located near the Start button and select the appropriate search result.

After the Device Manager opens, tap on the 'Printers' or 'Print Ques' category to expand it.
Right-click on your Epson EcoTank L3150 printer and choose the 'Update Driver Software' option from the menu that appears.
Thereafter, you'll see two options on your screen, select the 'Search Automatically for Updated Driver Software'.
After following the above steps, keep an eye on the Windows operating system while it searches for the newly released Epson L3150 driver update. After discovering a suitable update, the operating system may seek your permission to install it on your PC. Just provide the required permissions to let your system download and install the latest driver Epson L3150 Windows 10.
Also Read: How to Download Epson L805 Driver for Windows 7, 8, 10 Free
---
2. Download Epson L3150 Printer Driver from Epson Support Website
Epson keeps updating the Epson EcoTank L3150 driver on a regular basis to fix the critical security patches and improve the stability. The latest Epson L3150 Wifi printer driver download links are available on the official website. Hence, to get the latest correct driver for your device, all that you are required to do is visit the official support site of Epson and follow the instructions below.
First, go to Epson's official support website.
Hover the mouse pointer over the 'Support' section and select the 'Printers' category from the list of options that appears.

Enter the name of your product in the provided search box, i.e., Epson L3150, and select the appropriate search result from the suggestions.

On the next Epson L3150 driver download page, first, check whether the displayed operating system is correctly detected. If not, click on the drop-down menu and choose an exact version of the Windows operating system you are using.
After that, click on the 'Drivers' option, select the appropriate Epson L3150 scanner driver or printer driver, and then, at last, click the 'Download' button.

After the downloading process of the Epson L3150 driver installer completes, run the downloaded setup (.exe file) by double-clicking on it.
Then, you may need to simply follow the instructions displayed on your screen to successfully install the latest Epson L3150 driver package on your Windows PC.
Also Read: Download and Update Epson L565 driver for Windows 7, 8, 10
---
3. Use Bit Driver Updater For Epson L3150 Printer Driver Free Download (Automatic)
No doubt, the two manual methods that we have provided above are quite helpful to update and download Epson EcoTank L3150 driver, but each of them has certain shortcomings. One requires you to perform several tedious steps to update your Epson L3150 driver, while the other one demands a lot of time and technical knowledge. Hence, we suggest you use the Bit Driver Updater. It is among the topmost driver update and repair utilities available in the current marketplace. This flawlessly designed tool not only helps find the correct drivers for your hardware devices but also allows you to elevate your computer's performance in no time. With the help of Bit Driver Updater, one can easily download and install Epson L3150 driver software by performing a short series of below-mentioned steps.
Download the Bit Driver Updater application setup file for FREE using the below-provided download button.

After that, select the 'Scan Drivers' option from the home screen of Bit Driver Updater. In no time, it will show you the list of all the devices and/or hardware with outdated, corrupt, and missing drivers.

Now, click the 'Update Now' button next to the Epson L3150 printer driver to download and install the latest available version of that driver.
---
Final Words: Best Way to Download Epson L3150 Driver
Epson's EcoTank L3150 is one of the most economical and multifunctional printers, designed for both personal and commercial purposes. But, despite its excellent print capability and multi-feature functionality, you still require an appropriate driver to make it work. We hope that the methods explained above come in handy when you want to download, install, and update Epson L3150 printer driver on your Windows 10 PC. Lastly, if you require any further help, feel free to leave a comment below.