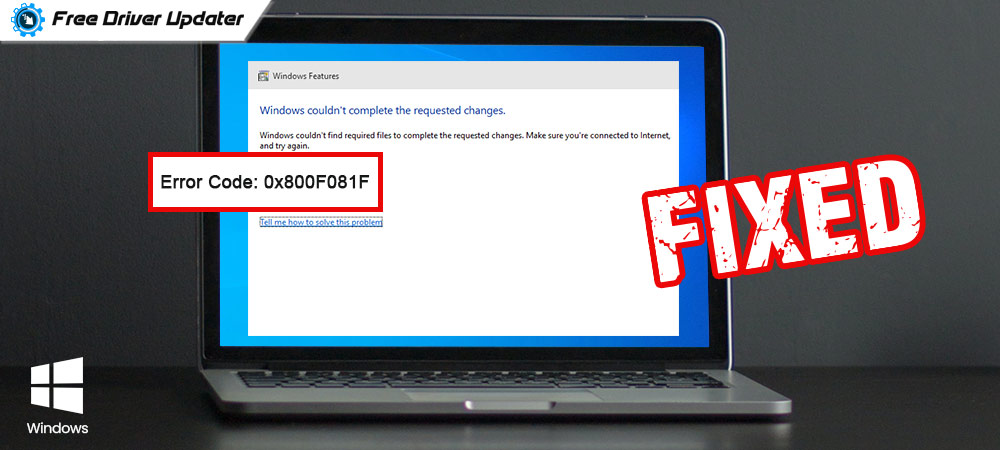 Not sure how to fix .NET Framework 3.5 Error 0x800f081f in Windows 10? Don't bother! Here in this blog, we are discussing the most effective methods that helped other affected users resolve the problem.
Microsoft is always working hard in order to make its operating system more advanced and useful for its users. But we cannot deny the fact that the Windows operating system still suffers from some errors that hinder the user from performing basic tasks on a computer system.
Error code 0x800F081F is one of those errors that is caused due to the incompatibilities of Microsoft .NET Framework 3.5. Usually, this type of error appears in Windows 10; 8.1; 8, and in Windows Server version 1709; 2016; 2012 R2; 2012.
What is .NET Framework 3.5 0x800f081f Installation Error?
When the Windows operating system is unable to find the .NET source file for the process of installing the wizard which is a DISM (Deployment Image Servicing and Management) tool, then this error code appears on the screen.
The error code 0x800F081F is also caused by Windows PowerShell commands. Apart from this error code, there are three other error codes caused by the .NET source file in a Windows operating system. They are 0x800F0906, 0x800F0907, and 0x800F0922.
This article contains a list of solutions that fixes all these error codes in a Windows operating system computer device. All the solutions mentioned below in this article are very effective and efficient in fixing this type of problem.
Read the article till the end to know about different types of solutions and select the one which is best suitable for you.
---
Solutions to Fix .NET Framework 3.5 Installation Error Code 0x800f081f in Windows 10
Below we have shared a list of workarounds that you can try one by one in order to stop running into error code 0x800F081F while trying to install .NET Framework 3.5 on your Windows computer.
Solution 1: Configure Your Group Policy Settings
Improper group policy settings may affect the ability of your Windows operating system to activate the Microsoft .NET Framework 3.5 installation. In this situation, you can try to configure your group policy to fix the error code 0x800f081f in Windows 10.
Follow the steps shared below to configure the Group Policy setting:
Invoke the Run command box by pressing the Windows logo key and R key simultaneously on your keyboard.
Type "gpedit.msc"without quotes in the box and click the OK This will take you to the Local Group Policy Editor.


Now, you need to navigate to the Computer Configuration > Administrative Templates > System.
Look for the Specify settings for optional component installation and component repair option in the right-hand side pane and double-click on it.

Now, you need to select the Enabled option and tap on the OK


After implementing the aforementioned steps, try installing .NET Framework 3.5 again on your Windows. If you're still getting the 0x800f081f error code, move on to the next solution.
Also Read: How to Fix 0x8000ffff Error Code on Windows 10
---
Solution 2: Enable the .NET Framework 3.5 Using DISM Tool
You may run into 0x800f081f error code in Windows 10 if the .NET Framework 3.5 feature is disabled. You can make use of a command-line tool named Deployment Image Servicing and Management (DISM) to enable the feature in your system. We have shared detailed instructions below to help you activate the .NET Framework 3.5 in your Windows computer using the DISM command.
Note: This method requires users to have a Windows installation media or an ISO image of their Windows version.
Insert the Windows installation media into your computer or mount the Windows disc image (ISO file).
After the disc image is mounted, run the Command Prompt application as administrator. To do so: type "cmd or command prompt" in the search box on the taskbar, right-click on the Best match result and select the Run as administrator


After the application is opened, copy and paste the following command and then press Enter on your keyboard.
Dism /online /enable-feature /featurename:NetFx3 /All /Source:<DRIVE>:\sources\sxs /LimitAccess
Note: Make sure you replace the <DRIVE> on the above-written command with the drive letter of the Windows installation media.

After the command is successfully executed, try to install the .NET Framework 3.5 on your Windows computer and check whether the error is gone or not.
Also Read: How to Fix Error Code 0x80073712 on Windows PC
---
Conclusion
In this blog article, we've shared a couple of tried and tested solutions to help you fix .NET Framework 3.5 installation error 0x800f081f in Windows 10. Please let us know which method worked for you. In case you tried some other solution that helped you get rid of the error, do share the same in the comments box provided below.